8 Compelling Reasons For Teachers To Move To Taiwan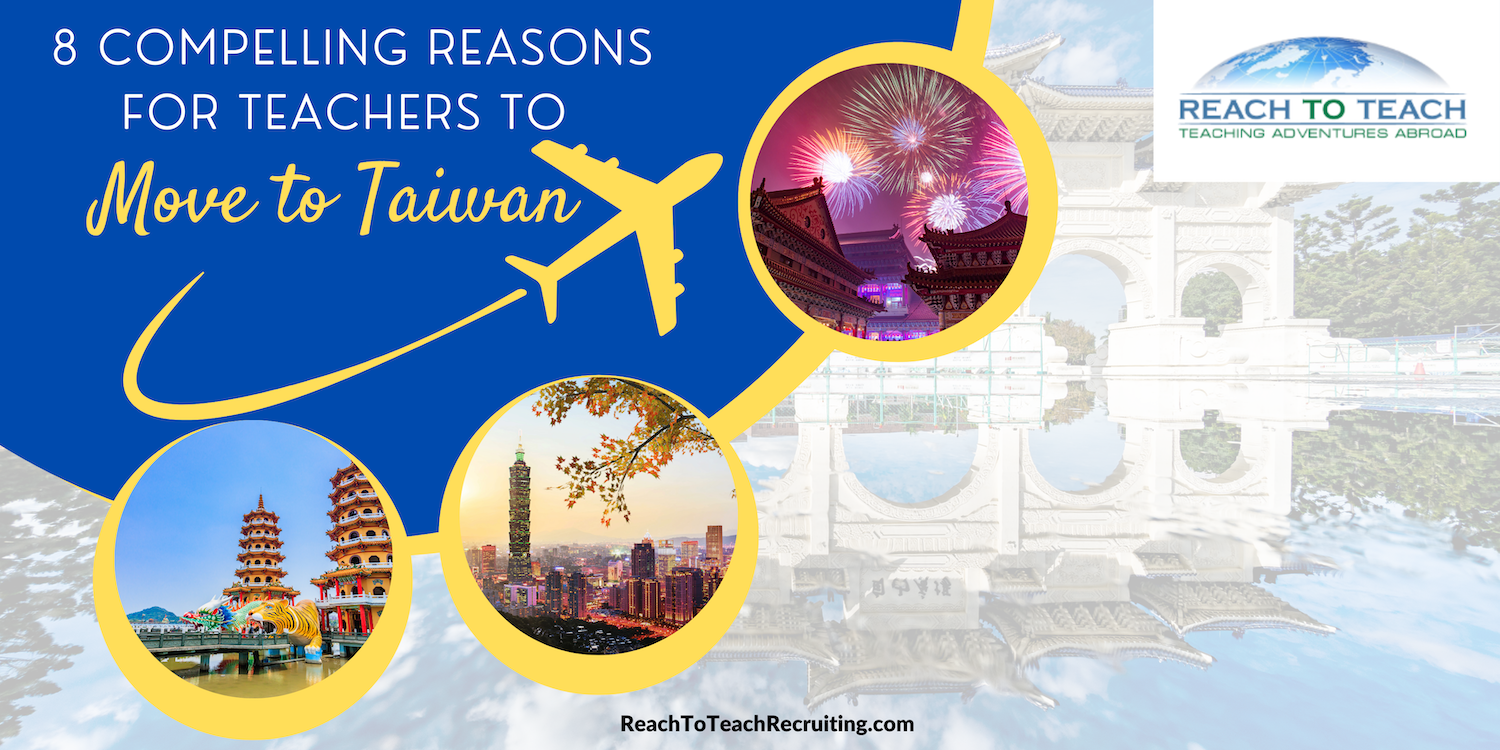 Why should you move to Taiwan? Moving to Taiwan for a teaching position can offer numerous benefits and opportunities. Here are 8 compelling reasons why ESL teachers might consider embarking upon a year or more in beautiful Taiwan.
Cultural Experience
Taiwan boasts a rich and unique cultural heritage that offers teachers the chance to immerse themselves in traditions, festivals, cuisine, and local customs. There is something for everyone in Taiwan. In addition to learning about the people of Taiwan, you will also meet immigrants from all over the world. Taiwan's expat population is massive with over 1 million immigrants calling this beautiful island home.
High Demand for English Teachers
There is a strong demand for English language education in Taiwan, creating ample job opportunities for qualified teachers. Whether you're an ESL or TEFL qualified teacher or a certified teacher, there are plenty of great schools to work with in Taiwan. Gain valuable teaching experience and grow your teaching skills while you're here. Teaching in Taiwan allows educators to engage in meaningful cultural exchange, sharing their own experiences and perspectives with students and colleagues.
---
You might be interested in:
---
Competitive Salaries
Teachers in Taiwan can earn competitive salaries, often with lower living costs compared to Western countries, allowing for a comfortable lifestyle. Expect to earn NT$700 per hour ($22USD or $17GBP per hour) with schools affiliated with Reach To Teach. (The minimum hourly rate of pay in Taiwan is NT$600 per hour. We stopped working with schools that offer minimum wage in 2017. Why? Because our schools value their teachers and understand that TEFL qualified teachers deserve more!)
If an hourly rate isn't your style and you're looking for a monthly income, teachers can expect to earn between NT$63,000 and NT$90,000 ($2,000USD to $2,800USD) each month with Reach To Teach schools.
The cost of living in Taiwan is low, which means you can save. On average, teachers can save approximately $10,000USD per year. I know, because I've done it.
Quality of Life
Taiwan consistently ranks highly for quality of life, with safe cities, efficient public transportation, modern amenities, and excellent healthcare. Don't believe us? Check out this survey by InterNations and learn why Taiwan is rated as one of the safest and best countries in the world to live in
In Taiwan, expats are particularly happy with the high quality of life, the ease of settling in, and their personal finances.

Taiwan does best in the Quality of Life Index (2nd), only beaten by Spain, and makes it into the top 10 for many related factors. The Health & Well-Being Subcategory is a particular highlight since Taiwan ranks first overall and first for all its factors. Expats find healthcare affordable (100% vs. 61% globally) and widely available (98% vs. 73% globally), and 88% say that they have access to all the healthcare services they need (vs. 67% globally).
Beyond that, Taiwan ranks first in the world for personal safety. While nearly all expats (98%) feel generally safe there (vs. 81% globally), 84% even feel completely safe in Taiwan, compared to 47% globally.
Numbeo also gives Taiwan high scores for quality of life.
Beautiful Scenery
Taiwan is renowned for its stunning landscapes, including lush mountains, serene beaches, and vibrant urban centers, providing teachers with diverse recreational options. You've seen the photos and videos of this gorgeous island by now, but if you need more convincing with your decision to move to Taiwan, here you go!

Friendly Locals
Taiwanese people are known for their warmth and hospitality, making it easier for teachers to adapt to the local culture and build meaningful connections. We really mean it. We love our Taiwanese friends and are constantly astonished and impressed by their kindness!
Travel Opportunities
Taiwan's central location in East Asia makes it an ideal hub for exploring neighboring countries such as Japan, South Korea, China, and Southeast Asia during breaks. Hong Kong is an hour away. You also have easy and cheap access to Thailand, Vietnam, Cambodia, Malaysia, and more. It's easy to explore Asia when you live in Taiwan.
Language Learning
Teachers can take advantage of the opportunity to learn Mandarin Chinese, one of the world's most widely spoken languages, while immersed in a Mandarin-speaking environment.
Have we convinced you yet? How can we help you with your decision to move to Taiwan? Let us know. We'd love to hear from you!
About the Author: Meghan has been teaching in Taiwan for five years through Reach To Teach. She loves early morning hikes and visiting Taiwan's night markets. Day trips in Taiwan are a regular part of her weekend routine.
Don't Forget to Pin It!