What Teaching ESL Has Taught Me

Today's article is written for the Reach To Teach Teach Abroad Blog Carnival, a monthly series that focuses on providing helpful tips and advice to ESL teachers around the globe. The host for this month is 'The Appetite Odysseys', here you can find other similar articles. I'll be posting a new ESL related article to this blog on the 5th of every month. Check back for more articles, and if you'd like to contribute to next month's Blog Carnival, please get in touch with me at dean@reachtoteachrecruiting.com, and I'll let you know how you can start participating!
This month I have been asked by the glorious Kelly Chapeskie to write and tell you lovely readers what it is that I have learnt teaching ESL. Teaching English in Taiwan and Bali have given me two different perspectives on ESL and I've learned a lot about myself from these two different experiences.  
Patience
This has to be at the number one spot. If any of the readers out there knew the pre-ESL teacher Dean then you would know that growing up I had very little patience, with everything. I was the kid that threw a tantrum when I failed at trying to do the simplest tasks (Hard to believe, I know).
But since teaching I have noticed a huge difference in my levels of patience. Dealing with students means that your patience meter is tested on a daily level. For the most part, students are great, however it's also true that students love nothing more than to see what makes the teacher tick.
It is at these times that you have to learn to keep your cool because what it really comes down to is that they are just kids being kids. If you start shouting and losing your cool then you have lost control of the class. Thus, the students aren't learning and you aren't teaching. Both sides lose out on a totally non-productive situation.
Bravery
I think every person that decides to uproot their life, step out of their comfort zone, high tail it to a foreign country where you don't speak the language, and then teach English in a educational system that is totally different to what you are used to deserves a gold medal … with glitter on it … and fireworks … and maybe a key to the city for good measure.
You enter the class for the first time, lock eyes with the students, they're figuring out your weak spots, you're figuring out how to win them over, eventually you speak and before you know it the class has finished. It's done, you survived, so you made a few mistakes but that is how you grow. (Read my article: '10 tips for your First Day at School' for some handy advice for getting through that first day)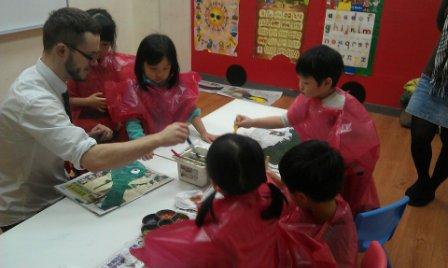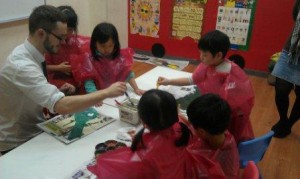 Life is a learning curve
Every teacher, no matter how experienced, makes mistakes in the classroom. Sometimes they happen often, sometimes they are few and far between, but the bottom line is, we all make mistakes. But do you just give up and go home? Hell no!  Do you keep making the same mistake over and over again? I hope not! What you do is you learn from these mistakes, ESL teachers are, or should be, constantly evaluating their classes.
At the end of the day I was forever looking at the weak parts of my classes and seeing what I could change or improve.
This skill has been projected into my personal life. I have grown to believe that you can always better yourself in everything you do. I mean, don't get me wrong. I feel a sense of achievement in what I do, but I can analyze my actions to see if I can improve them for next time.
Get silly
My time teaching young learners definitely sharpened my silly stick and gave my serious side a good jab in the ribs. Yes, you still remain a professional teacher, but often if you want to level with the students and really reach them, you are going to have to be likable; this means getting a little bit silly.
Whether it is getting on all fours and roaring like a lion, pretending to call the police on a student who is talking when the teacher is, or just throwing in a bit of free style dance moves to the morning song, don't be afraid to get silly with your bad self.
Outside of the classroom this has taught me not to take life so seriously and to remember to have fun. I find it much more productive to throw humor onto a situation and laugh about it than to drag myself down with feelings of anger, hate or sadness.
So overall, teaching in the ESL classroom really does teach you a lot about yourself, I have noticed huge differences in the person that I was before ESL, to the person I am today, and all of them are positive. There's also a lot of random things teaching abroad teaches you outside of the classroom that you should look out for.