RTT Monthly Event: BBQ Madness at Hinomai Yakiniku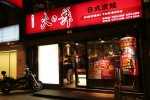 We've organized a BBQ event for 15 people at Hinomai Yakiniku's Japanese BBQ Restaurant. This event will be on a first-come, first-serve, so please reserve your spot with Mary at mary@reachtoteachrecruiting.com.
If you've never had BBQ in Taiwan before, we guarantee that this will be a special experience that shouldn't be missed!
The restaurant is on Civic Boulevard between Zhongxiao Rd and Bade Road. To get there, go to Zhongxiao Dunhua Station Exit 8. Walk up to Civic Boulevard and cross the intersection before turning right. The restaurant is about a five minute walk from Dunhua Road. Look for the restaurant sign featured in the event photo.
Dinner is all-you-can-eat BBQ for two hours. Plan on spending NT$600 for your meal and drinks at Hinomai Yakiniku.
We are organizing a get-together at On Tap later that evening at 10:30pm. If you don't want to come to dinner, please feel free to join us at On Tap for drinks. Please RSVP with Mary if you plan on attending dinner or the pub event as we need to arrange for seating for everyone.