Travel Through China Over Land

As I was trying to snap a few photos of our approach to the port in Qingdao from the upper deck of the ferry, an attendant frantically got my attention and handed me an arrival card. It was immediately obvious that her English was limited, but she had brought help.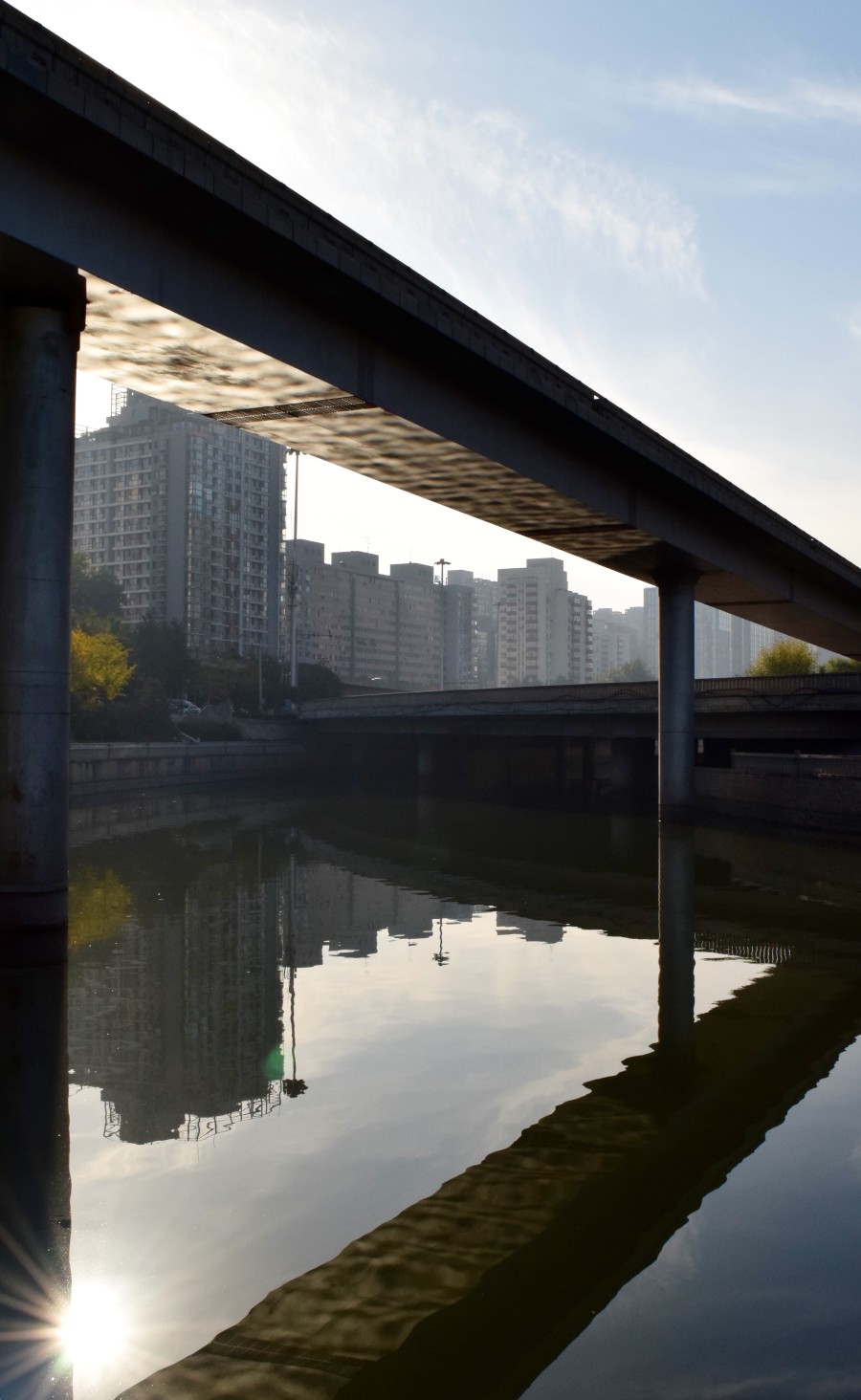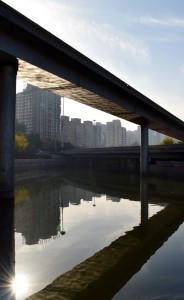 The kind Korean gentleman who came with her translated that we must go right now and that I needed to turn in my departure card immediately. This information was probably communicated over the ship's loudspeakers, but it appeared that all the other passengers understood the Chinese and Korean announcements.
Having my bags already packed, I quickly gathered my things from the 40-person berthing I had comfortably slept in and followed the attendant to the front desk. Her colleague helped me through the process, even writing out the Chinese characters for some of the information on my visa I had bought months ago.
As I descended the escalators down to the embarkation deck, I couldn't help but notice how comfortable my backpack was compared to the heavy boxes and bags most of the other passengers were hauling off the ship. They were presumably loaded with high-quality Korean goods being brought back into China likely to be sold. It was a look into a different way of life I had never even considered.
My Korean interpreter remained with me, and we got to chatting on the bus to terminal. It turned out that he was also traveling without airplanes, but his trains would take him south to Vietnam, whereas mine would eventually take me to the far reaches of the Eurasian landmass.
As a traveler new to the world of backpacking, I have relied heavily on the travel community Couchsurfing. This incredible network of curious and adventurous travelers has played an integral part in my journey to understanding the world in ways I had never thought possible.
In 25 cities over two months, I will have stayed exclusively in the open homes of fellow couch surfer's, learning surprising lessons with each new locale.
The ferry had been about an hour late, and I worried that my host was getting impatient. I had no way to contact her without wifi access, so I resolved to reach our meeting point as quickly as possible. She had told me the bus route, but there didn't appear to be any bus stop at the terminal. Just standing around looking confused, I got the attention of multiple cab drivers.
After a bit of a struggle to overcome the language barrier and a brief phone call to the driver's English-speaking associate, I reached my destination. It turned out my host lived nearby and was simply relaxing at home.
She arrived  a few minutes after I made contact, and we got to know each other as I settled into my temporary corner in her beautiful apartment.
Later that day, she took me to the old area of the city, whose architecture betrays its roots in the German occupation of the city early in the last century. We found a tiny family restaurant serving multiple kinds of seafood.
Sitting between tables of locals who noticeably gave the occasional glance at this unusual foreigner, we discussed everything from relationships to religion. I never actually figured out what we ate, but my host had chosen well. Such an experience without a Mandarin-speaking guide would have been all but impossible for me.
The next morning, she sent me off with directions to the Qingdao Railway Station to catch the bullet train to Beijing. Having booked online, I simply needed to exchange my reservation slip for a ticket.
Though I arrived less than an hour before departure, I had no issues picking up the ticket, and a quick matching up of the characters for Beijing (北京) on the timetable on the wall told me that I needed to be in the west waiting hall.
On board, I killed much of the time listening to podcasts and reading my book, but those are frivolous time-killers when there was so much to learn all around me. The gentleman next to me started the conversation, but before long we were discussing international trade and politics.
I had no idea that Mongolia – my next stop – had once been part of China, and it appeared that some Chinese people believe it still should be. Though I had to decline, the man even proposed a business partnership to help expand his sale of tires in America.
Perhaps if I were of a more entrepreneurial inclination, that chance meeting could have been the beginning of a lucrative career in transnational business.
Arriving at the Beijing South Railway Station, I started searching for the subway. A cab driver intercepted me and offered to drive me to my destination, but I simply asked for the location of the subway and thanked him for his glance toward the ticket kiosks.
I was to meet my next host at YongAnli station, and the large map by the kiosks informed me that a single ride would be 4RMB ($0.75). Cheap and efficient, the subway system in Beijing was definitely the way to go.
As agreed my host met me outside the station and escorted me to a Hong Kong style restaurant just around the corner. Over what was probably the best Chinese meal I've ever had, I got to know more about this intellectual young man who is telling the world about his country through his articles in a major American newspaper.
Like many East Asians, he constantly underestimated his language ability, but he would have fooled me if he had said he grew up in America.
The next day my host was busy doing some investigative research, so I used the morning to walk to Tiananmen Square and the Forbidden City. However, the sights I found along the way were much more interesting.
Around a foreboding train depot, along a man-made canal, I snapped one of my favourite photos as the sun hid behind an overpass bridge, perfectly reflected in the water. Walking along with a handful of ordinary commuters, I found my way to a section of the old city wall.
Instead of going onto the wall like the groups that arrived there by tour bus, I walked the path that cut through a green park full of laughing mothers with their young children, groups of spry elderly practicing tai chi, and joggers getting a breath of fresh air.
Exploring on a Sunday, the touristy area around Tiananmen was packed. I wandered through briefly, but I was intent on returning to the less explored areas.
On an unassuming side street, I stopped for lunch in one of the many small restaurants with steaming stacks of dumpling racks, pointed at the food I wanted, and took a seat.
It was enough communication, and my simple meal reinforced the difference between being a tourist and being a traveler. I continued north and found Jingshan Park, which has one of the tallest peaks in Beijing, from which the view of the Forbidden City is markedly better than any sight from within its walls.
The next day, I headed to the outer reaches of China. Taking an adventurous method to Mongolia, I decided to take a sleeper bus to the border, cross, and catch a train from there.
Locating the Muxiyuan Long Distance Bus Terminal (木樨园客运站) late in the morning in a busy but shabby area of town, I bought a ticket for Erlian/Erenhot (二连浩特), but the bus was not scheduled to leave until almost 4 p.m.
In the meantime, I carried my pack out into the busy streets and quickly stumbled upon a bustling market of produce, clothing, meat, machine parts, accessories, and hot meals.
As I strolled by a large tent shading a handful of tables and a couple steaming pots of something delicious, my hungry eyes got the attention of the owner. I stopped, and she mimed at me the action of eating. I smiled and nodded.
She pointed to an empty table, and I stowed my heavy bags. In just a few minutes she placed in front of me a steaming bowl what tasted like a mother's chicken noodle soup on a cold December day.
Have you ever visited theses areas? Do you have anything you would like to add? Would you have taken the journey differently? Let us know in the comments section below.