8 Ways Asia Has Ruined My Life Forever

For fear of scaring off any new readers or first-timers in Asia, let me clarify the possibly startling title. I love Asia. I love it so much that when the time comes to go back home, getting used to the swing of things is going to be more difficult than I anticipated.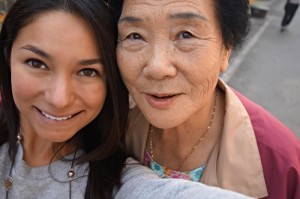 I better prepare my family and friends for the constant pained conversations they'll have to endure about how much I miss Asia. I believe they'll often hear the phrase: "Well, in Asia…" Maybe once they read this list of things I love, they'll sympathize with me instead of roll their eyes.
These are the 11 things I love most about Asia, the things that have ruined my life forever. (Cue dramatic music.)
1. Street Food
The food truck scene has spread like wildfire in America, but it's nowhere near as amazing as the street foods in Asia. (America, sorry to out you like this, and please let me back in when it's time for me to come home.)
First, there is no such thing as "gourmet truck food," and America needs to learn that. They should take a cue from Asia and learn that delicious, fast, and cheap is the way to go. Second, enough with the fusion food trucks and expansive menus, America. Asian street food is so good because the vendors choose one or two foods they cook well, and stick to that. No menus. No fuss. That's how street food should be done.
2. Skin care
This mainly pertains to the amazing creams, face masks, lotions, and potions in South Korea. Shops like Etude House, Tony Molly, and Skin Food are the best because they have amazing products and, equally important, cute packaging. Maybe it's silly, but I love wearing a raspberry scented facemask that's shaped like a panda bear.
3. Cheap, Cheap, Cheap
Asia is the best place to travel on a shoestring budget because it's insanely cheap. Korea is the best place for eating out at a cheap price. Taiwan is the best place to go for cheap taxi rides. All of Asia is great for travel. Whether by train, plane, or taxi. Getting around Asia can be pretty easy and (say it with me now) cheap.
4. Night markets
No place in the world compares to the gritty, fast paced vibe in Asian night markets. There is nothing that makes me happier than being around the smells of roasting squid and the sounds of hagglers fighting over prices. It's magical.
5. Themed cafes and restaurants
From Barbie cafes to toilet restaurants, Asia loves themed businesses and events more than a sorority girl at an 80's frat party. Is it cheesy? Hell yes. Is it quirky and fun? Yes! I love that certain places in Asia don't take themselves too seriously.
6. Clean subways
This point is specific to Taiwan because it has a beautiful subway system. No eating, drinking, or chewing gum is allowed, and it's created such a pretty, clean subway system.
7. Amazing festivals
Keep your Coachella Festival, America. I'd gladly choose to experience a Lantern Festival or a Dragon Boat Festival instead.
8. The kindness of strangers
I've never met kinder strangers than in Asia. My favorite memory of a kind stranger in Asia was when a little Korean grandma hugged me in the street for no reason other than she thought I looked pretty that day.
If you've ever traveled in Asia, what did you miss once you left? Share your answer with other expats in a comment below.