Online Teaching
Teach Online with Reach To Teach. Are you looking for a fun and professional online teaching position with a stable income? With our positions, you have the chance to teach English online. You can earn $18 per 45-minute class plus bonuses. Apply today!
Online teaching doesn't require a classroom or the opportunity to meet your students in person, but it does allow you to work with your students at your own pace and at their own pace.
Also known as virtual teachers or long-distance teachers, online teachers are trained specifically to teach students online. These types of positions range from teaching one on one classes to full classes.
Your options to teach online are simple and easy. You can choose to work full-time or part-time. You can choose your own hours with some organizations, and you can work with student of all ages, from young learners to adults.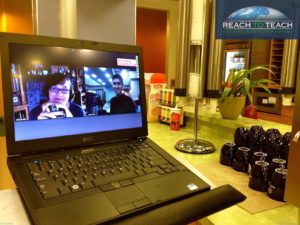 Online classes are growing in popularity with each passing day. There has never been a better time to get involved with an online teaching position.
Online teachers are in high demand these days for many reason. These types of positions also offer a flexible teaching career opportunity that allow you to work from almost anywhere in the world.
Most online teaching positions require teachers to have experience teaching online. Reach To Teach offers online teaching positions for teachers that have a full university degree and at least one year of formal online teaching experience.
Reach To Teach is looking for online teachers that are able to use interactive and fun e-learning platforms to deliver conversational English classes to students.
Online teaching requirements:
A full Bachelor's degree
One year of formal online teaching experience or a 120 hour TEFL certification specializing in online teaching
An interest in teaching online
Demonstrate cultural awareness and sensitivity
A fun, positive and professional teaching approach
You must have access to a fast Internet connection with clear video capabilities. A Skype account is usually a teacher's best option for this type of teaching position.
If you are considering teaching online, here are some things you might want to consider in advance:
Online teaching opportunities are typically very creative teaching opportunities for teachers, but there are some technology basics you need to know before you embark on your online teaching adventure.
Most online teachers use Skype because it is simple and easy software to install that has stable audio quality and the ability to screen-share your desktop to work directly with education websites and PowerPoint presentations.
Skype works well for one on one classes, but if you are interested in teaching larger classes, you might want to consider working within a virtual classroom platform to help you manage groups online.
Another pitfall that teachers may come across is how to keep your students motivated when they are online with you. This always depends on the context of your teaching model.
Fun activities such as field days and physical activities are out, but you have to think outside the box with online teaching. Some activities you can consider for your classes are story-telling activities via multimedia, making videos or even making comics.
Students are often motivated by what they see, so your camera is one of your most important tools. Online teachers need to be extremely expressive on camera.
Your goal is to make your students feel like they are in the classroom with you. Backdrops, visual aids and chat options should all be made available during your online classes so you can add an extra element of fun to your teaching style. This will also help you establish a better sense of intimacy with your students.
Please also be aware that as an online teacher, your presence is online, thus social media can be a huge pitfall for teachers who are not presenting themselves professionally online.
Additionally, please be aware that there are many online schools that offer substandard salaries for teaching online. Pick and choose your school wisely.
Most of all, remember to have fun!
Please share!