Below are the experiences of some of our teachers. Teaching English abroad is certainly a challenge, however you can always rely on Reach To Teach for support. You are welcome to submit an application and join our great group of teachers.
ESL Teachers in South Korea
Khadijah Anderson - 2009 - Teaching with EPIK in South Korea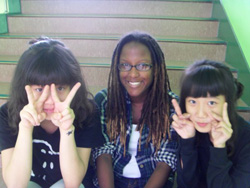 안녕하세요!
Making the decision to come to Korea to teach was a good one. I knew the opportunity to work in another country would give me the experiences of being a teacher, learning new culture and language. I had never traveled outside of the United States before and knew I wanted to experience something exciting and challenging. Reach to Teach provided the steps to make teaching in Korea a reality.
I came to Korea in August 2009 and am currently employed under EPIK (English Program in Korea). Last semester I taught grades four through six in elementary school. This semester I teach grades five and six. So far it has been a great experience. Teaching is most rewarding when you see the student understands the information given and is able to use it while communicating. There's never a class that isn't filled with laughter. It's my opinion that being a teacher gives you the chance to also be a student. I'm amazed at what types of things I learn every day.
Korea is a great place to work. Not only are you able to live within your means, you're able to send money home, save money and travel in and outside the country without worry.
I've been in the city of Gwangju for seven months and I love my job. How many twenty-two year olds can say that? In less than five months I knew that Korea was the place for me and that I'd be staying another year. Because of that decision, I've signed up for an online TEFL so that I can learn more about what it is that I do. I must say that I'm very happy here. I have good friends, places to go, things to do and not much to worry about. I call that living the life.
Nichelle Reed - 2009 - Teaching with EPIK in South Korea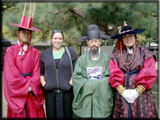 My decision to move overseas was completely spontaneous. I had just graduated from university, and was having a hard time finding a job at home. In a moment of intense frustration at the job market, I decided that I would move to Asia. I spent a brief period of time looking for teaching jobs online, and then I stumbled across Reach To Teach. From the moment I applied, I felt confident that I was making the right choice.
Of course, I had a million questions about living in Korea, about teaching English, and about the application process. Mike was able to answer all of my questions flawlessly. I was also in a rush to get started in Korea. With Reach To Teach, I was encouraged to go forward with the move at whatever pace I decided was best for me. And Reach To Teach offered me ongoing support throughout the application process and after the move.
Now that I live here, I am frequently reminded of how glad I am that I chose to find a job through Reach To Teach. I have heard first hand so many horror stories about bad schools or living arrangements or contracts. Because of Reach To Teach, I work in a great school, I have very supportive co-workers, and I live in a great area. There have been some challenges, and moving to Asia is a huge adjustment, but I feel totally safe knowing that the Reach To Teach staff are always available to help me with any problems that I have.
I have had some amazing experiences in Asia. I have been able to travel and see parts of the world that may never have been available to me otherwise; I have made great friends, and I truly enjoy my job and my life. I recommend Reach To Teach whole-heartedly to anyone who wants to have the experience of a lifetime in Asia!
- Nichelle Reed
Jon Wick and Cassie Weightman - An American Couple in South Korea
I was a teaching elementary school for the four years before I got involved with Reach To Teach. I was watching my friends go off, travel the world, and return home with incredible lessons and stories, and it struck a chord with me. It got to a point where I was just going to take a year off to travel, come back, and start things anew, when a friend suggested I teach abroad. Having that thought never cross my mind, I began the process of weeding through the web sites and information. I ended up interviewing with several different schools and agencies, but it was Reach To Teach that provided the comfort level and support system I wanted in order to take on the leap of faith that living and working abroad truly is.
At last count, I had one million and fourteen questions regarding living in a foreign country, teaching ESL, something even I was a bit uncomfortable with, and navigating the proper paperwork so that I'm legal. Both Mike and Mitch expected and anticipated that, and were far too wonderful, and quick, returning emails answering everything I could throw at them. Never at any point did I feel under prepared taking the next step of the process.
My appreciation of Reach To Teach grew once I was in Korea for a while and heard some nightmare stories of schools, situations, and placements. Struggling with the enormity of the change, it was always comforting to know there is a kind of safety-net underneath you to help if things did go awry. Because of their diligent work, my transition to culture and life in Korea was flawless.
- Jon Wick & Cassie Weightman
Terry Gee - 2010 A Canadian in South Korea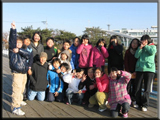 For as long as I can remember, I have always wanted to experience living in Asia. Coupled with my love for working with children, I thought that teaching would be a very ideal path to take. I came across the Reach To Teach web site when I was performing initial research on teaching English overseas. After reading through the web site, I decided to apply and was immediately contacted to set up an interview. I had the pleasure of speaking with Mike, who was able to answer all my questions and eliminate any sort of hesitation I had been feeling about moving half way across the world to teach English. I was provided with a great deal of information about Korea and after the interview, I was extremely excited to proceed.
Now that I've passed my 4-month mark in Korea, I can honestly say that I am extremely happy that I went through Reach To Teach. I have met other teachers here who have either found schools on their own or used other recruitment companies and many of them have had very negative experiences.
Overall, I am tremendously satisfied with how things worked out. It's a very scary experience to move half way across the world, and it was nice to know that Reach To Teach was there the entire time to help guide me.
- Terry Gee
Dustin Smith - 2010 - An American in South Korea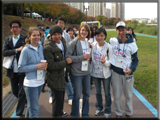 Being a recent college graduate, I was very unsure of myself. I had several friends who were about to being their adventures' on the other side of the world teaching English in Asia. They were so enthusiastic and open-minded about what their lives' would be like as foreigners that I became jealous. Having been adopted from South Korea I have always wanted to visit my home country, but had never gone. Now my friends were going to beat me to it!
I started to research my options and decided I would take the first leap and apply to Reach To Teach. I was pleasantly surprised. A lot of ESL recruiters are very lucrative and are only out to make money. Not Reach To Teach. The quality and commitment of Reach To Teach became clearly apparent during my interview. The staff is very efficient, and is always in communication with their applicants and current teachers. They are there for you every step of the way.
Reach To Teach genuinely wants to help you get to where you want to be. They are always thinking of you when they make decisions. I had a somewhat specific location in mind of where I wanted to teach in Korea and Reach To Teach made it happen. Mitch, my recruiter, was very informative, efficient, patient, and caring. He substantially alleviated the stresses and anxieties of the general process.
With Reach To Teach you get the complete package. Reach To Teach only deals with respectable Hagwans, and wants you to have the time of your life. As for now, all I can say is "One year is not enough!" I was very happy working with Reach To Teach to become an ESL teacher in Korea. Without hesitation I recommend Reach To Teach to anyone who is seeking his or her dreams in Asia.
- Dustin Smith
Brian Gorenstein - 2010 - An American in South Korea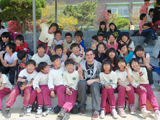 To be honest when i started thinking about coming to teach English in South Korea, it made me very nervous. That coupled with some unfortunate family issues prior to my leaving almost made me decide not to come. Looking back, that would have been a terrible decision. With a lot of patience and help from Reach To Teach, in particular, Gillian Benjamin,who was very understanding and sympathetic,I made it here, and I am so happy. This past year in Korea has been one of the best years of my life!
I came to Korea in March 2010 and I am currently employed through EPIK(English Program In Korea). My apartment is nice for one person, and it is a 5 minute walk from my school. I teach at Hagik Elementary school in Incheon. My school is great. I have 3 co-teachers all with their own unique styles of teaching. I have not had any problems co-teaching with them. All of the other teachers at the school are really nice. They all go out of their way to make me feel welcome. Most importantly, the students are great..most days. They love me so much, and they are really cute, it really makes me feel great to walk in there and be so appreciated. I have heard some horror stories about bad schools, so I am thankful to Reach to Teach for placing me in a good one.
Life out here is usually low stress, work is good, nightlife is good, the foods good, there is always a sense of adventure, Koreans are really nice, and Korean girls are beautiful, I even managed to find myself a Korean girlfriend. Get out here and have an amazing experience you'll never forget!
- Brian Gorenstein
Ahsa Yoo - 2010 - An American in South Korea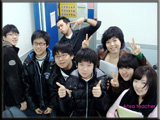 I found out about Reach To Teach through a friend who was recruited to work in Taiwan. I have known that I wanted to teach in Korea since my sophomore year of college, but I didn't know how to get started. It was the end of my senior year, and I was getting nervous about finding work, and my friend directed me to their web site. Reach To Teach was great. I got a response within two weeks, and an interview was set up. Mike, my interviewer, answered all my questions and made me feel at ease with the huge decision I was making. Mitch Gordon was extremely helpful and supportive through the entire process. I emailed him all the time with all types of questions, and he responded right away.
As for teaching in Korea, it's great. (I work at a private after school institute or hagwon.) I'm Korean American, so I can speak and understand the language. My school and I decided to hide this from the students. Now that I've been given more work, I had to tell the students the truth. I was worried that my relationship with my students would be ruined, but our relationship has gotten better! They come to me after class and try to talk to me in English, and if it gets hard, they'll say sorry and speak in Korean. It's uncanny how much I came to love the students within six months!
I'm glad I went with Reach To Teach. I have a friend who found a school on his own, and he ended up quitting because of how badly the school treated him. Thanks to Reach To Teach, I'm having such a great time with both my coworkers and students! They were able to find a school that was perfect for me! I see that they've expanded in Korea, so after my year is up, I'll turn to them to help me find another position in a public school :D
- Ahsa Yoo
Stephen Kao - 2013 - Teaching with EPIK in South Korea
I ended up using Reach to Teach after one of the bigger recruiters ended up ignoring me, and I'm really glad I did. They helped me the entire way through and would always be there to answer my questions -- no matter how many times I emailed them. I'm in month 7 of teaching in South Korea, and it's all thank to them that I'm here!
Judith Villarreal - 2014 - Teaching with EPIK in South Korea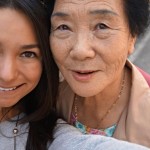 I couldn't have chosen a better recruiter. I used Reach To Teach to teach in South Korea August 2013, and I'd gladly recommend them to anyone looking to teach abroad. The staff is kind, patient, knowledgable, and organized. My personal recruiter walked me through the entire process and was always ready to answer any questions or concerns I had during the application process. What really sets them apart is their genuine care for the teachers they help land jobs abroad. They send out personal emails throughout a teacher's stay in a foreign country to make sure everything is going smoothly. I've been in Korea for 7 months now, and I am still in regular contact with my recruiter, who I now consider a friend. Reach To Teach is a great recruiting company!