Taiwanese Food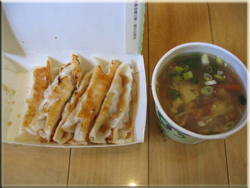 Fried dumplings and soup, get used to seeing
this image!
Finding food to eat will be high on your priority list when you arrive, and rightly so. Although many menus have English, an authentic Chinese dining experience can only be had through an exploration of local restaurants, with Chinese only menus (Check out some basic food phrases Here to get you started). This is a big part of the experience of living abroad and one the most rewarding and fulfilling (pun intended!). After a couple weeks you will have found your staple foods. Don't worry, you certainly won't starve!
Taiwan offers some amazing cuisine that is sure to have your taste-buds screaming! It is also home to some of the strangest foods you will see: Hundred year eggs, stinky tofu, and snake blood soup immediately come to mind, but beyond that there are plenty of strange dishes that aren't for the faint of stomach. One thing you will immediately notice is that many of the 'Chinese' foods you may be used to back home are decidedly absent here. There is no Sesame Chicken, General Tsao anything, or "egg rolls" to be found here. What you will find is plenty of dumplings, beef noodle soup, and steamed buns. Don't stop there, as you will find plenty of delicious delicacies around every corner!
Your typically Taiwanese meal can be found right on the streets. Little mom 'n pop stalls are everywhere selling all kinds of little snacks. You will find a lot of this type of eating is trial and error until you find something you like. None of it is very expensive so if you don't like it there is no huge loss. Night markets are a great place to try a number of different foods. This is an even more enjoyable experience with a Taiwanese friend by your side to help explain what everything is. However, sometimes NOT knowing what you are eating is more fun! Night markets can be found in every town, and in major cities like Taipei there are literally dozens!
Typically, one can spend as little as NT$200-300 per day here and eat well. However, most teachers generally spend a bit more because of our occasional cravings for Western food! A weekend splurge at TGI Friday's or Pizza Hut, can set you back approximately NT$500 (approximately $15USD). Thus, how easily you adapt to local Taiwanese cuisine will largely affect your food budget because eating Western food comes at a premium.
You may also find the typical Taiwanese kitchen is lacking compared to what you are used to back home. People in Taiwan tend to eat out a lot more often than we do in Western countries. If you are like most teachers, you may find it much easier and cost efficient to eat out for the majority of your meals.
Western Restaurants
As mentioned above, if you are feeling a little homesick Western foods are readily available at fast food establishments, restaurants and grocery stores throughout Taiwan.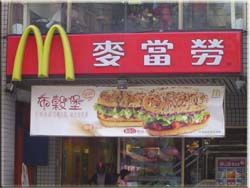 Yes, McDonalds are here in Taiwan. Eat ONLY
when necessary!
Mcdonalds (NT$105-125)
KFC (NT$105-180)
Burger King (NT$110-135)
Pizza Hut (NT$110-550)
TGI Friday's (NT$400-1,000)
Starbucks (basic coffee is NT$70)
Chile's (NT$400-1,000)
Outback Steakhouse (NT$400-1,000)
Macaroni Grill (NT$400-1,000)
It is much easier to find Western goods in Taipei, but all major cities have something. Food, like everything else, is also more expensive in Taipei.
Fruit in Taiwan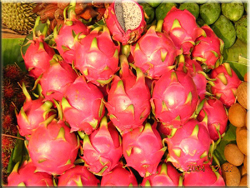 This is Dragon Fuit, go out and try some!
When it comes to fruit, Taiwan is second to none in terms of variety and deliciousness. Fruit exports are among the greatest revenue sources in Taiwan. Taiwan offers a superb climate, geography and growing season for a great many fruits. From tropical heat in the south to sub-tropic temperatures in the low-lying areas to temperate-zones in the mountains, they have it all here.
Those of you who are looking for organic fruit and produce will be pleased to note that the availability of organic products is doubling on an annual basis.
Taiwan has a famous fruit-filled biscuit called a "pineapple cake, easily recognizable by its distinctive cube form. Try them, they are great. They are also made with blueberries, strawberries, honeydew melon and other fruits.
Outside of what you would normally find in any Western grocery: longyan, custard apples, jujube, kumquats, honeydew melon, loquats, pomelo, Asian pears, star fruit, and strawberry pears (pitaya).
Night Market Dishes
Taiwan's best-known snacks are present in the night markets, where street vendors sell a variety of different foods, from finger foods, drinks, sweets, to sit-down dishes. In these markets, one can also find fried and steamed meat-filled buns, oyster-filled omelets, refreshing fruit ices, and much more. Aside from snacks, appetizers, entrees, and desserts, night markets also have vendors selling clothes, accessories, and offer all kinds of entertainment and products.
Stinky tofu (Chinese: 臭豆腐 chòu dòufǔ). This dish is a Taiwanese classic and can readily found in almost every night market. The aroma of stinky tofu is intimidating at first but can be an acquired taste.
Ba-wan (Chinese: 肉圓 roù yuán). A sticky gelatinous dough filled with pork, bamboo shoots, shiitake mushrooms, and served with a savory sweet sauce.
Taiwanese sausages. There are several different varieties, but they are all generally made from pork and taste sweet. Kaoliang is sometimes used in the sausage recipe. In night markets they are often served on a stick along with many different condiments.
Scallion pancakes (蔥油餅). A flour pancake with many thin layers made with scallions. A snack originating in the Chinese mainland.
Squid or fish on a stick – often marinated, then grilled.
Shaved ice – popular dessert consisting of shaved ice and a variety of toppings to choose from.
Shawarma (Chinese: 沙威馬 shāwēimǎ). A sandwich usually made from spiced, grilled chicken and served on a leavened, white flour bun with julienned cabbage, a slice of tomato, sliced onions, ketchup, and mayonnaise. Brought over from Turkey decades ago, the seasoning is quite different from the seasoning used in making shawarma in Turkey.