Taiwan's Green Spaces

Cities built into a mountain side, gondolas soaring above tea plantations, parks providing peace and comfort in the middle of city blocks, trees growing on top of corporate buildings.
These are not usually descriptions you hear when describing a bustling, modern city, but these are only a few of the scenes you can see when traveling around Taipei and New Taipei City.
With a combined population of over 6.5 million people, it's hard to imagine that there would be enough space to make room for nature, but it's a very important aspect of life in Asia.
The necessity to incorporate nature into city life is common in many countries around Taiwan: Japan, Korea, Singapore, Hong Kong, and China.
I'm not talking about one or two large parks haphazardly placed for aesthetics. The type of nature you see stems from a desire to preserve some of the natural peace that used to surround our daily lives.
Even in the big cities of mainland China, where demolition and rapid industrialization are the norms, you can find huge lake-parks, hiking, and green spaces throughout the city.
Am I saying that Asia is the only country that has cities with large amounts of green space? Of course not. Cities like Vienna, Sydney, Stockholm rank higher in percentage of green space per person.
What I will say is that the type of green space you see, at least in Taiwan, differs from that of other countries, mainly based on its geography. Surrounded by mountains and the sea, Taiwan is able to retain so much of the islands natural beauty.
In Taipei, with the elevated expressways, high-rise buildings, and the plethora of public transportation, it may sound like a concrete jungle, but walk down a small residential side-street and you can see the beauty of small-scale nature in the city.
Small gardens and plants are grown outside of the majority of houses and apartments. Small scale parks, where retired folks go to exercise, pop up in a majority of the city blocks.
The little dots of nature surround you in Taipei, not to mention the larger green spaces, i.e. national parks and reserves.
It's almost impossible to have a to-do and to-see list in Taiwan without having some of the national parks and nature reserves.
Yangmingshan National Park, one of Taiwan's nine national parks, spans 28,400 hectares and has some of the best hiking trails in Taipei. A majority of the park is located within the city limits making it the city's largest green space.
The Maokong Gondola soars over the mountains of Taipei and brings you closer to the tea plantations and serene, peaceful culture of the people who inhabit Maokong.
Each season hosts a new activity to celebrate the beauty of the mountains. They include: Apricot Blossom season, Tung Tree Blossom season, Spring Tea season, Lupin season, and Bamboo Shoot season.
The most amazing part of this blending of natural beauty and urban sprawl is the proximity in which it takes place.
You can take a visit to one of the world's tallest buildings, Taipei 101, in the bustling heart of Taipei's downtown, then hop on the metro for about 20-30 minutes and arrive at the tranquility of Maokong's tea plantations.
The ease with which Taipei is able to mix nature's beauty with modern, urban life truly makes it a special place to live.
Are you currently in Taiwan? Have you been here before? What are your thoughts on the green spaces within Taiwan? Let us know in the comments section below.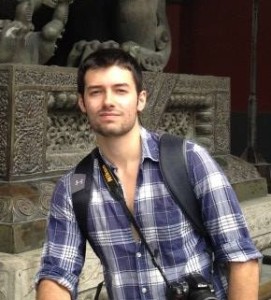 Vadim Rubin is an ethnic Belarussian learning to speak Mandarin Chinese. He is a coach, teacher, linguist, athlete, and an aspiring world traveler. As an avid volleyball player and coach, he spends a majority of his time on the court with sweaty volleyball junkies. Off the court he enjoys to travel, write, and teach world languages. In the summer of 2012 he traveled to Taiwan to study Chinese and wrote about his adventures in his blog: 三個月在臺灣 My Three months in Taiwan . He documented his adventures in Taiwan and China on his blog  Where's Your Inner Child? He is now back in Taiwan teaching English, traveling, and discovering what life has to offer. – See more at: Vadim Rubin, Author at Baltimore Post-Examiner
Please share!