Georgia's Incredible Cave Cities and Cave Monasteries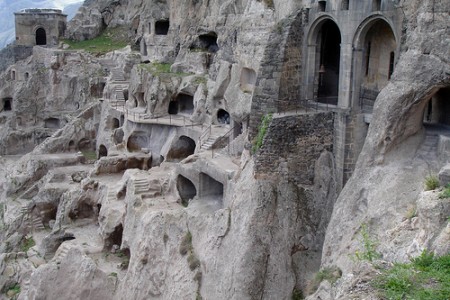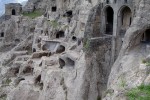 With today's modern lifestyle, complete with high-speed trains, iPads, 3g wireless devices, and online gaming, it's easy to forget that in the past, there were much simpler lifestyles. A visit to any of the many cave cities in Georgia provides a sharp reminder of a not so distant past.
Many of Georgia's cave cities were simply villages, while others doubled as fortresses or monasteries-double protection from the point of view of the inhabitants. The first of these complexes acted as all three at different points in history. The original focus of the cave city Varzdia had to be its more than 6,000 private residences spread over 13 stories-an impressive feat for any day and age. Originally, the fortress was built to protect the city from Mongol invaders, but an earthquake destroyed the natural protection of the mountainside, allowing the Persians to take the city a couple of centuries later. Although never as vibrant as it was in the 12th century, Varzdia still functions as a monastery and draws thousands of curious travelers.
The David Gareja cave dwelling has been more fortunate in its history. Originally founded by St. David in the 6th century as a monastery, the complex became a battleground during Mongolian and Persian invasions. While much of the vibrancy of the monastery was lost after the Mongol invasion, for most of its 1,500-year history, David Gareja has remained a cultural center of the region. The heart of the complex, however, has always been its ever-expanding number of monasteries. Today, it spans an area of50km by 20km and houses both ancient and relatively modern churches.
These are only two of the cave cities in Georgia. While you are there, you might also want to check out Vanis Kvabebi and Uplistsikhe. For those interested in experiencing what life was like before the Internet, the cave cities of Georgia will provide the perfect opportunity. For the adventurous traveler, there is no end to the exploring one can do in the cave cities and monasteries of Georgia.
For more information on Georgian sites and culture, check out our Teach in Georgia page. While you are there, don't forget to read more about living and working in Batumi.