Peaceful Places in Asia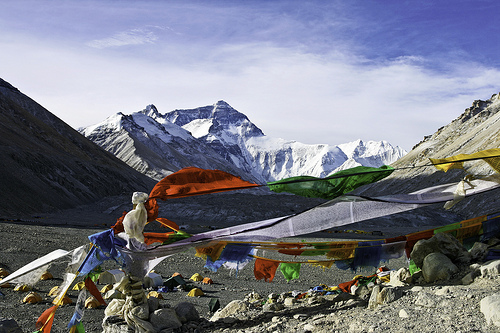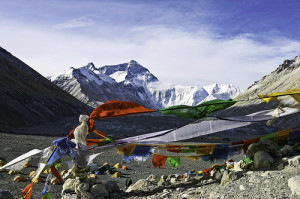 Image Source
Asia is a big place. With lots of people. A staggering variety of culture. A massive amount going on.
Big money. Heartbreaking poverty. Claustrophobic congestion. Wild expanses. Sacred tradition. Sacred rebellion. It's a bit overwhelming, honestly.
Where does one to go to getaway, to breathe deeply, to seek peace where it may be found?
The Maldives
If you have the cash to spend, this island paradise – the smallest in population and land mass in all of Asia – will have you thinking you're in the Caribbean instead.  The Maldives are a string of 1000+ islands, with the entire population spread out over only 200 of them.  As such, your transport around will mostly be boat or plane.  Half of the inhabited islands are solely resort islands catering to your arrival and stay.
Rough, I know.
Unless you're exploring the capital of Male', it's likely that you'll spend most of your time between the pool, the beach, the ocean, and the restaurant.  These guys pride themselves on the tourism industry for good reason.  Your resort island will offer a range of activities centering around water, sun, fun, and all that comes with it.  Dive into the culture by taking weaving or drum classes, or learn the ways of the ancients through stargazing and sailing.  That is, if you can convince yourself to take the snorkel gear off.
Or just sit and watch the evolving contrast between your deepening tan and the steady white of the sand on your secluded beach.
When it comes to needed pampering of a stressed soul, the Maldives is your self-spoiled spot for an unashamed bout of peace.
Mount Tai, China
There is something about sacred sites and pilgrimages which usher us mere mortals into the better parts of ourselves, whether we particularly prescribe to the beliefs upon which these temples are built or not. Mount Tai in western Shandong, China, is one such place.
For 3,000 years this Mountain has been considered a holy space for the Chinese dynasties, evolving into the staging area for emperors to pay respect to both heaven (at the summit) and earth (at the foot of the mountain). Thousands climb the 'stairway to heaven' each day to connect with the heritage of this nation and so somehow to better understand their place in this world.  Not to mention take in the view.
Seven thousand two hundred steps over a span of several hours will take you past more temples, ruins, tablets, gates, archways, and mountain-side inscriptions than you can count.  But counting isn't really the point anyway, is it? Mount Tai invites you into awe. Though you'll be sharing the path with many others, you may find as you walk this Chinese treasure that inner peace has little to do with ideal circumstances and lack of conflict.
Sometimes, peace finds us in our pain, struggle, and sweat. A peace we wouldn't have known unless we embarked on the journey.
Mussoorie, India
This hill station in the Indian state of Uttarakhand rests at an average altitude of 6,000 feet above sea level and boasts the flora, fauna, and scenery of what many have called a 'fairyland.'  With the snow-laden Himalayas as your morning greeting, Mussoorie offers history and nature in plenty for your itching curiosity of where the source of respite resides.
Kempty Falls, Lake Mist, Gun Hill, Company Gardens, and Happy Valley are a mere handful of Mussoorie's offerings in exploring the verdant countryside.  There are also several temples dotting the land, constructed for various cultural and religious deities, standing as a fascinating homage to human nature and longing.  Visit Sir George Everest's House, the estate of India's First Surveyor General and the namesake of our planet's tallest mountain.
Dubbed the 'Queen of Hills', Mussoorie is an unforgettable journey into the Indian-Asian culture, satisfying modern tastes while transporting you to mystical realms of serenity.  If you skip the summer influx of tourists and miss monsoon season where the Doon Valley is blanketed in cloud, you may just find that Mussoorie haunts your dreams as you long for that spark of something pure.
Miyajima Island, Japan
As the man disembarks from the mainland ferry onto Miyajima Island, unable to tear his gaze off the red gates of the famous Itsukushima-jinja shrine, which seems to float on the water, a cheeky deer eats the map right out of his hands.  But he doesn't need a map to make his way to the top of Mount Misen. As he gazes out over Hiroshima and the bay surrounding the island, he holds these views close to his heart.
There is a semi-sacred feel to this island with Shinto shrines and Buddhist temples inviting him to set aside his preconceived notions of how the world understands the story we're in. A 1,000 year flame causes him to feel at the same time small and connected; like he's a character in an epic that's been unfolding since time began.
He is invited to create his own Shakushi, a wooden rice scoop, and doesn't pass up the opportunity.  As he wanders through the streets of this small island, he stops in a restaurant to sample the grilled eel over rice.  He's glad he did so.  The whole island speaks Japanese and his is simplistic at best, but he finds the locals are friendly and eager to help tourists out of their element.
The man closes his eyes. Takes a refreshing breath. Peace is the word that comes to mind.
A feeling.  An understanding.  A quiet gratitude.
Kampong Thom Province, Cambodia
In the rural areas of the Kampong Thom province, ancient stone temples loom, like a picture from The Jungle Book.  Trees and fields and rivers and simple lifestyles form the raw material for tranquility's gentle smile.  But the peace you find here is not a peace gained from disengaging from the world's troubles.
The opposite: this peace comes when you enter into the mess.
Kampong Thom is home to places engaging the hurt of the world, like the Shelter of Love, an organization who rescues children in the depths of unrelenting poverty, providing for their physical needs, educating them, loving them, and sending them back out into Cambodia as productive citizens.  With a familial structure rooted in the belief that each child matters, each word spoken matters, and each day is another opportunity to take steps towards good, the Shelter of Love, their staff and volunteers, beat back the darkness that would steal the peace from a land once devastated by genocide and hate.
Opening our eyes to such a reality is a humbling experience.  Cambodia is one of the world's poorest nations with most of the country living on $1 per day.  Yet I dare you to look into one of these children's eyes and tell them how unfortunate they are.  You will find that there is a strength and a peace they own which you could not possibly fathom. And being in the presence of such joy, such peace, is a transformative experience.  A gamechanger.
True, serving orphans seems less like a holiday destination and more like hard work. True, there are places conducive to less stress.  Places which cater to your every need and astound you with their beauty.  But peace runs deeper than that, doesn't it?  Mother Teresa thought so:
"If we have no peace, it is because we have forgotten that we belong to each other."
Sounds like a good place to start our journey.