Teach English For GEPIK in Korea
UPDATED October 2021
Gyeonggi Province, is the area surrounding the city of Seoul. Do you want to teach English for GEPIK in Korea? If yes, keep reading! We've got the lowdown for you here. Everything you could possibly want to know about teaching for GEPIK is on this page, so don't forget to Pin It so you can refer back to it.
Teaching for South Korea's GEPIK program offers teachers a unique experience by allowing them to share their culture and knowledge with students while gaining experience teaching ESL in Public Schools across Korea. Most GEPIK positions are in more rural areas of each province. When you teach with GEPIK, you can be assured that you're a one-of-a-kind cultural experience in Korea.
Why Teach English For GEPIK Program in Korea?
GEPIK stands for Gyeonggi English Program in Korea.
It was established in 2003, to provide English education to all public schools in the Gyeonggi province. There are currently over 1,000 foreign ESL teachers working for the GEPIK program. This translates into a lot of highly lucrative ESL teaching jobs available now in Korea.
Benefits of working for the GEPIK Program in Korea – Teach English For GEPIK
All EPIK teachers will be entitled to the following benefits:
Free housing provided by the GEPIK Program (utilities not included)
Entrance Allowance of 1.3 mil won to purchase a one-way ticket
Exit Allowance of 1.3 mil won or a renewal Bonus of 2.0 mil won for resigning
10 days of ESL training orientation
Settlement allowance of 300,000 won (This is a "signing bonus" which you receive when you arrive in Korea. This will help you settle in and buy various things you will want as you move into your new apartment!)
Paid vacation for 18 working days plus 13-15 National Holidays
Medical insurance and pension, 50% of which is covered by the GEPIK Program
Higher salaries for teachers who choose to work in more rural locations
Responsibilities of GEPIK English Teachers
Primarily, GEPIK teachers are required to conduct beginner to intermediate English classes at an assigned Gyeonggi Province school with a Korean "co-teacher" as a team. GEPIK English teachers are required to teach 22 classes (varying from 40 – 50 minutes) per week. There are other various extra curricular programs that teachers will run such as English Day Camp, English Speech contest and English classes for fellow Korean teachers.
GEPIK Salary Scale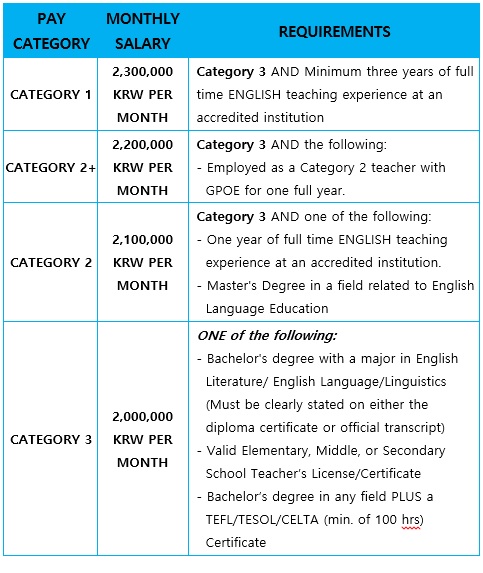 Are you eligible to teach for the GEPIK Program in Korea?
All applicants to the GEPIK program must have one of the following:
Be a Native English Speaker with citizenship from one of the seven main English speaking countries (Canada, USA, Australia, New Zealand, South Africa, United Kingdom, Ireland)
Hold a Bachelor's Degree from a University or College
Have a clean criminal record (required by the South Korean government)
You MUST also have one of the following:
TEFL/TESOL/CELTA certificate of 100 hours or more (GEPIK gives preference to applicants who have a 20 hour in-class teaching component)
BA Degree in Education with a major in Teaching, TESOL, Second Language Studies, or Education
MA Degree in Education with a major in Teaching, TESOL, Second Language Studies, or Education
Teaching license in your home country
1 year of full time teaching experience
Note 1:  If you don't have a BA in Teaching, TESOL, Second Language Studies, or Education, you can still qualify for the GEPIK program be getting a 100+ hour TEFL certificate. Get your 140-hour combined TEFL class here.
Start dates and working hours for GEPIK – Teach English For GEPIK
Your employment teaching in Korea for the GEPIK program will be for the duration of one year. The GEPIK program has two start dates per year at the beginning of each semester. The 1st arrival date is at the end of February while the 2nd is at the end of August. A typical working day is 8 hours, with approximately 22 hours/week of actual teaching time. Overtime pay is available if teachers are asked to work additional hours. You will only work Monday to Friday and will have plenty of time to enjoy your weekends!
The Reach To Teach Community in Korea
Reach To Teach has a great community of English teachers in Korea. If you feel overwhelmed by the thought of moving halfway across the world, you are not alone. With new teachers arriving each month there will be many opportunities to meet new and interesting people. We have many regular events that include happy hours, hike events, dinner parties, paintball and even white water rafting!
Visit our Reach To Teach Blog for regular event updates in South Korea.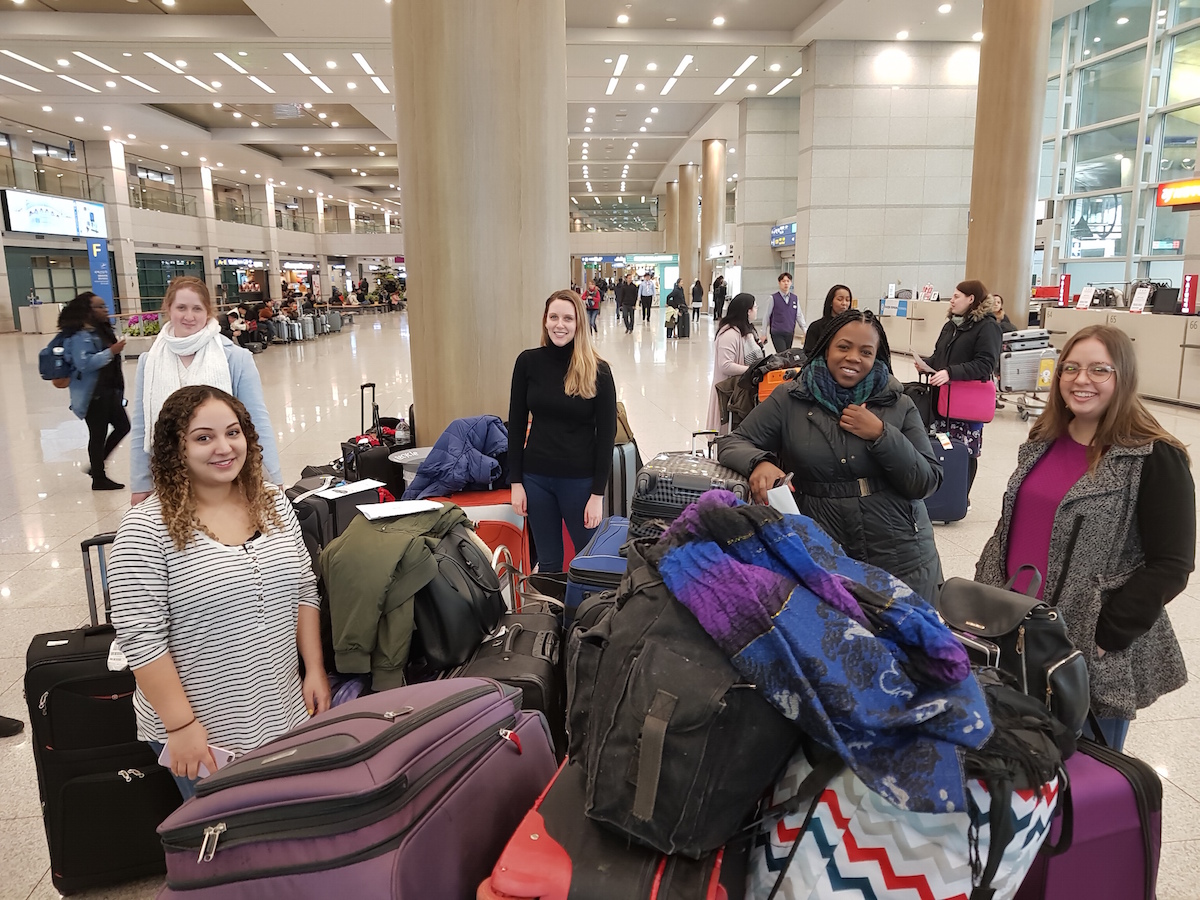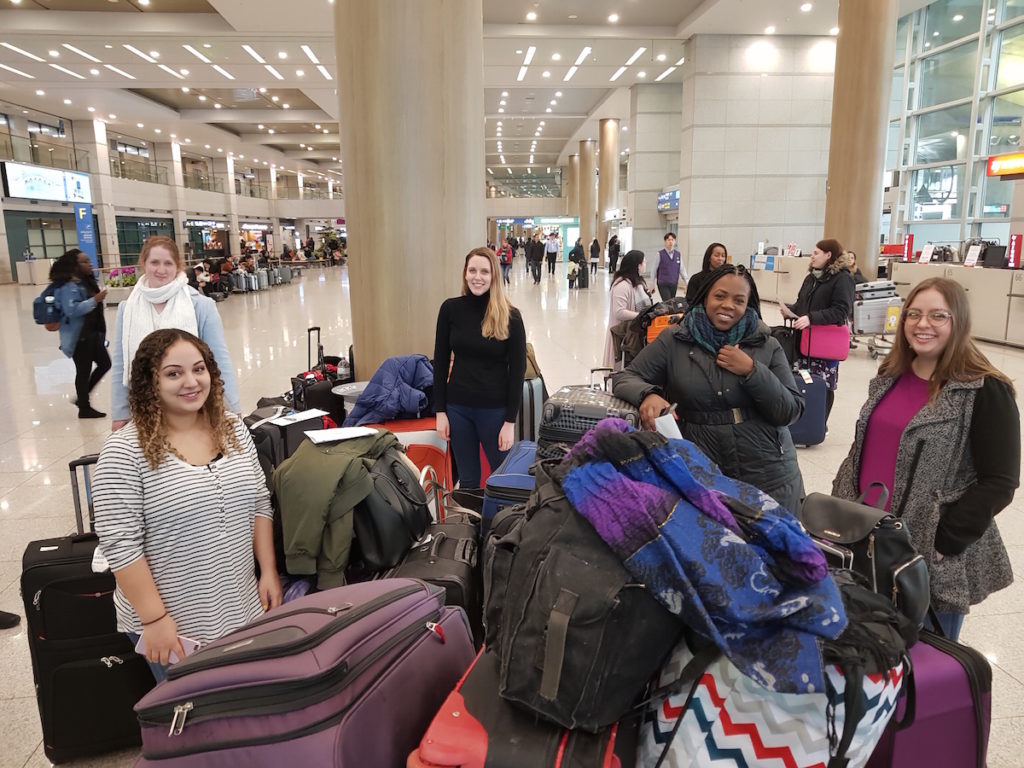 Teaching English in South Korea – Get Advice from the Experts!
All of us at Reach To Teach have all taught English abroad. We understand the anxiety that comes with considering a move halfway across the world. With that in mind, remember that all questions are good questions! We want you to feel as comfortable as possible with your decision. Leaving your home country to teach English in Korea is an exciting and adventurous choice. It's important to be sure you have as much information as possible so you can concentrate on enjoying your year (or more!) teaching in Korea.
GEPIK Placement Locations
You can't requests specific locations with GEPIK, and placements are limited to availability. The more flexibility an applicant has with regards to application, the better chance they have of securing a job. Placements are located in more rural areas across Gyeonggi Province. We would love to be able to guarantee placement locations, but most government teaching programs slot their teachers into locations where they feel they are best suited.
Don't forget to Pin It so you can refer back to our page!