Holidays in Korea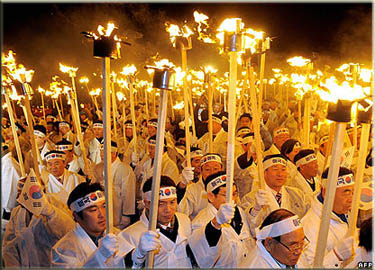 Pre-modern Koreans used a lunar calendar which meant that dates changed from year to year when determining holidays. These days however, Korea has embraced the solar calendar in accordance with the rest of the world. Yet much of the country still uses the lunar calendar to keep track of births and deaths and some traditional holidays. Many people celebrate their birthdays according to both calendars, and the first days of each calendar are national holidays.
All the following dates are national holidays for which you can expect to receive a day off work. As an English teach you will receive a total of 20 days of vacation throughout the whole year.
Solar Calendar
New Year's – January 1st and 2nd
Independence Movement Day – March 1
Arbor Day – April 5
Children's Day – May 5
Memorial Day – June 6
Constitution Day – July 17
Liberation Day – August 15
Foundation Day – October 3
Christmas Day – December 25
Lunar Calendar
New Year's (Seol-nal) – 1st day of 1st month, plus the day before and after
Buddha's Birthday (Seokka Tanshin-il) – 8th day of 4th month
Harvest Moon Festival (Chuesok) – 14-16th days of 8th month
Please share!