Nightlife In Korea
Korea has many nighttime activities. Although the military-imposed midnight curfew has long since vanished, most restaurants and bars are still required to close their doors at midnight. However, certain hotels and designated "tourist" clubs can stay open later, and some clubs remain open illegally, posting sentries with cell phones outside to unlock the doors for late night partiers. In 1997, Itaewon was designated a Special Tourist Area, allowing many establishments to remain open 24 hours.
Coffee & Tea Shops
Coffee shops and tearooms (tabangs) differ somewhat from their Western counterparts. Cups of coffee generally cost 3,000 won and up, with no refills. However, customers can stay and chat as long as they like. Many coffee shops have waitresses who will come to your home or office with a thermos full of coffee, then sit and talk with you while you drink.
Dancing
Nightclubs and "rock cafes" abound in Korea. Whereas a trip to a night club in a hotel or other up scale club will set you back a minimum of 100,000 won for a table, going to a rock cafe will only cost about half as much. Korean clubs expect you to buy a minimum amount of drinks and food when you sit at a table. If you want to dance cheaply, it is much better to frequent clubs near U.S. military installations, which just charge you for what you drink.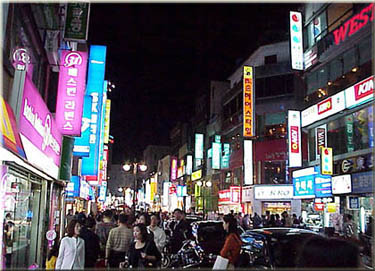 Drinking
Not so long ago, Korea had only two types of beer: Crown and OB (Oriental Brewery). Nowadays, each company has spawned a number of specialty beers, and imported beers are becoming more popular, giving beer drinkers a wider selection from which to choose. Soju (a potato-based liquor), makgeolli and dongdongju (rice-based liquors) are popular among Koreans and usually drunk while eating anju (finger food side dishes, such as peanuts, popcorn, or dried squid and fish).
Eating
One of the best ways to meet the locals is to pull up a stool at a pochangmacha- an outdoor food stall, usually on wheels so the owner can move it easily to different locations. They usually open up shortly before dusk near riverfronts, college districts, and shopping areas. No matter what the weather or temperature, these little stalls always do a brisk business.
Karaoke & Singing
Koreans love to sing! No matter where you go, you can always find at least one noraebang (singing room). Most offer the same selection of songs, with a rather limited supply of older foreign songs. If you go with a bunch of Koreans, you will be forced to sing. Learn a couple of Korean songs and really impress your hosts!
Movies
Until recently the popularity of Western films, especially from Hollywood, exceeded that for Korean films, often creating friction between the Korean film industry and cinemas that want to make a profit. These days many Korean films have gained in popularity, both domestically and abroad. With the exception of an occasional film festival for foreigners or a special event at the Seoul Arts Center, Korean movies are shown in their native language. Imported movies are shown with Korean subtitles, and blockbusters are usually released in Korea shortly after their home country openings. Korean censors have a bad (and well-deserved) reputation for making gaping cuts in some movies.
Shopping
Many shopkeepers at Korea's large, open-air markets do their wholesale buying in the wee hours of the morning, starting around midnight or 1:00 a.m. In addition, many street vendors stay open long past dusk, especially in Itaewon.
[clear]