Sports in Korea
As part of a competitive culture Koreans love all types of sports. There are many opportunities to find other people with the same interests as you, whether they be Korean traditional sports or sports from other countries. Reach To Teach will be soon sponsoring various sports teams in amateur leagues throughout South Korea, look for more details in one of our upcoming newsletters!
Baseball
The popularity of baseball in South Korea compares to that of the United States or Japan. Local fans show strong support for their teams, showing up for games with the whole family in tow for an afternoon of entertainment. The Korean Series in the fall keeps people glued to their TV sets to see all the action.
Local amateur baseball leagues are also very popular and include a number of ex-pat teams. Playing together on a team is a great way to meet new friends both foreign and Korean.
Bicycling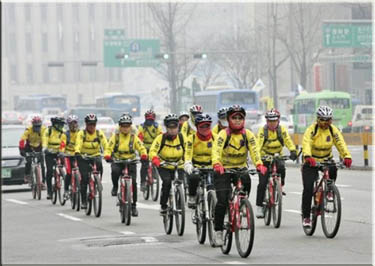 For many years the bicycle was the main mode of local transportation for most Koreans. In recent years the number of automobiles has began to far exceed the ability of the roads to handle them, turning a bicycle ride in any of Korea's metropolitan areas into a suicide ride.
Fortunately, the government has recently begun to build bike lanes trails, especially along the riverside parks bordering the Han River in Seoul. Mountain biking has also been gaining in popularity in recent years. The Korean Mountain Biking Association can be reached at (02) 967-9287. The Olympic Velodrome has professional track racing during the summer months.
Basketball
Michael Jordan can probably be recognized as easily in Korea as in the States. Basketball has become very popular, especially among those of the younger generation who are considerably taller than their parents. The country has a number of professional basketball teams, most owned by major business conglomerates, with several foreign players.
Local outdoor basketball courts can easily be found throughout the country, mostly in parks and schools. Indoor courts are found less frequently in gyms and can only be accessed through a monthly membership. Koreans players are very approachable and will actually be very eager to test their skills up against Westerners.
Tennis
Koreans, especially housewives, enjoy hitting a tennis ball back and forth at the many tennis courts in the country. Courts are generally dirt, although some clay courts have been set up, and exist mostly near apartment complexes or universities.
Swimming
Public swimming pools resemble wading pools more than actual swimming areas. Many of the larger hotels have their own pools for their guests to use, although non-guests can usually use them on a pay-per-use basis. Swimming at most lakes and reservoirs is prohibited as the water is usually used for drinking by the local communities. Streams and rivers, if not too polluted, are very popular, and many families sent up campsites in these areas during their summer vacations. For some reason at ocean beaches the lifeguards tend to get upset at anyone going out past waist deep.
Skiing
While Korea's mountains do not reach the same heights as at other ski resorts around the world, they still offer many good downhill slopes. The season runs from late November through March, and most resorts have decent snow making equipment during the dry periods. Until a few years ago most slopes prohibited snow boarding, but now most do allow snow boarders and some have slopes set aside specifically for them. Like most areas in Korea, ski resorts become quite crowded on weekends and holidays, so weekdays are a much better time to go. Resorts rent and sell ski equipment to fit all sizes, and many have ski instructors who can speak English and other languages.
Scuba Diving
Cheju Island is a very popular area for scuba/skin diving and snorkeling. Between June and October, the water temperature and water quality are at their best. Many equipment rental agencies near popular dive areas can provide a full line of gear. The Korean Underwater Diving Association can be reached at (02) 420-4293.
Rugby
A number of Koreans and expatriates like to get together for bruises and blood in weekend rugby matches. Like some other sports, some Korean companies have formed professional teams and are trying to increase local interest in the sport.
Hiking
One might think that mountain climbing is Korea's national sport. On any given weekend, the hills around Seoul and every other city are filled with Koreans wearing alpine hiking clothes. Bright knee-high socks, hiking boots, colored vests, and walking sticks adorn most of the hikers, and can be bought very cheaply here. The USO operates an English speaking hiking club, which has organized hikes on most weekends. Contact them at (02) 795-0392.
Soccer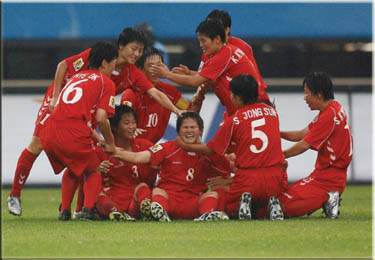 Like the rest of the world, the Korean people are huge soccer fans. Some of you might remember that South Korea co-hosted the 2002 World Cup with great success. Today you can easily find local clubs practicing or playing games against each other at the numerous riverside parks and other amateur playing fields around the country.
Golf
As golf has become a status symbol of wealth the sport has taken the country by storm with dozens of golf clubs springing up all around the peninsula. The popularity of LPGA golfer Pak, Se-ri has increased the interest in golf among younger Koreans as well. Membership and greens fees are drastically cheaper than in Japan or the States.
Martial Arts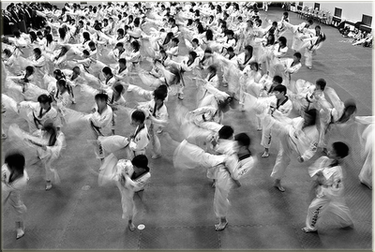 Taekwondo has gained increased international popularity since its spotlight in the Olympic games. Hapkido has also become very popular. People of all ages study Korea's most popular martial arts.
Badminton
Popular throughout Asia, Korean singles and doubles players often make the finals in regional and world championships. At almost any outdoor recreation park you can find several badminton nets setup and many enthusiasts hitting a birdie back and forth.
Billiards
Although the Korean version (danggu) has been popular for years, Western-style billiards has also gained in popularity and most pool halls now have both types of tables. In danggu, players hit 2 white and 2 red balls around a table without any pockets. Many bars have also added pool tables for their patrons' use.
Bowling
Bowling, an international past time, has many fans in Korea. Bowling alleys often have huge bowling pins advertising their locations. Westerners should have no problem finding shoes and balls for their sizes. Most alleys have computerized systems to keep track of scores and number of games played.
Camping
Rather than the traditional form of hiking into the back country and pitching a tent, Korean families are more likely to set up their campsite next to their car in a common area for "car camping." Several organized campsites do exist in national parks and other tourist areas, but generally camping outside of designated areas is not permitted.
[clear]