Weather In Taiwan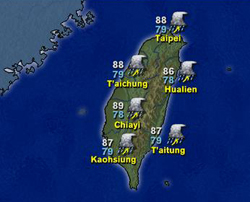 Weather map of Taiwan
Tropical bliss! Most of Taiwan has a beautiful and warm climate year round. You can leave your winter coat behind when you come to Taiwan to teach, but definitely bring rain gear!
The weather here is amazing (for those of you who like subtropical heat and humidity). Because Taiwan is a relatively small island, the ocean breezes have a cooling effect on much of the country, so it never really feels too hot. It should also be noted that because this is a tropical country it is subject to a lot of rain (similar to Seattle and the rest of the northwest US). However, showers are short lived and blue skies prevail on most days.
The annual average temperature is a comfortable 22 degrees Celsius with lowest temperatures ranging from 12 to 17 degrees Celsius (54-63 Fahrenheit).
The average amount of rainfall is about 2,500 mm per year, most of which comes in the form of typhoons. At least three to four typhoons hit Taiwan every year, providing much of the Island's water supply, but also causing damage, flooding, and landslides. When a big typhoon looks like it will hit the island directly many schools will close and the country will dig in and wear the storm out. In the mountainous areas flooding and landslides are a serious concern, but generally the major cities are left wet and unaffected.
Please note, there are areas in Taiwan that do get cold. These are the high alpine and mountainous areas like Alishan. Most of Taiwan fits into the average temperatures listed previously.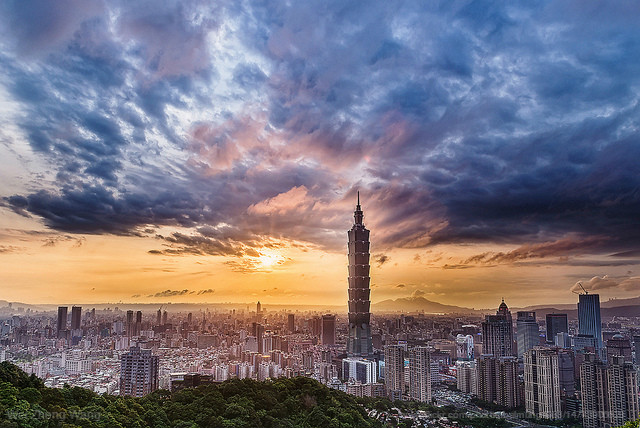 Seasons in Taiwan
Taiwan enjoys warm weather all year round. The strongest fluctuations in weather conditions are during spring and winter, while during summer and autumn the weather is relatively stable.
Summer in Taiwan
Summer generally runs from June to September. The weather is certainly hot but it is the humidity that tends to bother most teachers. It is a little intense to say the least.
Fall in Taiwan
Fall is from mid-September to October. This is also the typhoon season with generally two or three storms passing by the island.
Winter in Taiwan
Winter generally runs from November to February.
Winter is actually a prime season in Taiwan with temperate temperatures that are neither too cold or too hot. It's also prime time for bird watching. Seriously. Literally hundreds of thousands of migratory birds come to Taiwan in the winter. It truly is an amazing thing to see.
Spring in Taiwan
Spring generally runs from March to June and is usually marked by endless days of rain.