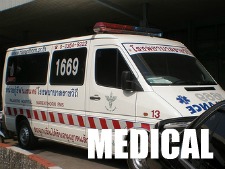 Medical Services in Thailand
Medical Services
Private Hospitals in Thailand's major cities generally provide high quality medical services that are up to western standards.  They give you clean, modern facilities, and doctors who usually have at least some English language ability.
For general medical concerns, such as minor injuries, illnesses and check-ups, Thailand's health care is affordable and high quality.
However, medical services in Thailand still have a lot of room for improvement.  Public hospitals, and health care in rural areas tend to be more basic, and often have long waiting lines.  Another major problem that plagues the health care system is a shortage of general practitioners.  The majority of physicians in Thailand are specialists.  If you have an ailment that affects multiple systems, or if you are suffering from a few different problems, finding the best general care can be difficult.
Emergency care still has a long way to go, too.   Ambulances aren't as well-equipped or as commonly used as in western countries.  In fact, traffic often seriously interferes with ambulances' ability to respond to an emergency.
If you do have to deal with an emergency situation, local authorities will often only speak and understand Thai.  English-speaking tourist police can be contacted at 1699 within all of Thailand's major cities.
Cost of Medical Services in Thailand
Even without health insurance, the cost of medical services in Thailand is inexpensive compared to what you would pay in western countries.  However, if you are living in Thailand for any length of time, health insurance is definitely something you don't want to go without.
Many schools offer limited health coverage, but a lot of teachers in Thailand choose to purchase their own private health insurance.  There are a number of companies offering plans designed for foreigners.  BUPA and AIA are two providers that are popular among foreigners living in Thailand.  Check that your preexisting conditions are covered.
Medicine
Pharmacies are abundant in Thailand.  You can easily find various types of western medicines as well as locally-produced herbal medicines.  If you plan to bring a supply of any medications with you, check with your local embassy and customs officials to make sure that there won't be any problems bringing it into the country.
Immunizations
You should visit your physician or local travel health clinic 4-8 weeks prior to traveling to Thailand, to make sure that you have the most up-to-date advice on vaccinations and health concerns.
In general before you leave for Thailand, you should make sure that you are up to date on all routine immunizations.  These include tetanus-diphtheria, measles-mumps-rubella, and polio.
Vaccinations for Hepatitis A and Typhoid are recommended for all travelers to Thailand.  If you plan to spend significant amounts of time traveling outside of major cities, then Japanese encephalitis vaccination is also recommended.
Malaria is present in some rural areas of Thailand, especially in areas bordering Cambodia, Laos, and Myanmar.  If you plan on traveling to these areas, make sure that you talk to a health care practitioner about what you should do to protect yourself from malaria.