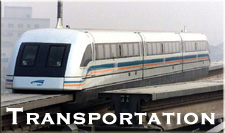 Since the population of Hong Kong is extremely large, public transportation must be able to accommodate the number of people going to and from work every day. There are many modes of transportation in Hong Kong. These modes include trains, cars, taxis, and buses.
Trains are used by both residents and visitors. Mass Transit Rail Corporation Limited (MTR) operates the railways in Hong Kong. There are nine rail lines with a length of approximately 108.5 miles. As of June 2011, MTR carried 3.9 million passengers per day.
The Airport Express is part of MTR and is used exclusively to transport people from the Hong Kong International Airport to the city of Hong Kong. This rail line is only 22 miles long and as of June 2011, carries approximately 31,500 passengers per day. This is the most economical way to travel from the airport to the city.
The third railway is referred to as Light Rail. Light Rail is located in the Northwest New Territories and is approximately 22.5 miles long. As of June, 2011, Light Rail transported 430,000 passengers per day.
Cars are also used throughout Hong Kong. Personal cars are used as a symbol of status in the city. Hong Kong has the largest amount of Rolls Royce luxury cars per capita and the second largest Mercedes per capita in the world.
Taxis are convenience, but they're more expensive than rail transportation. Taxis are red, green, or blue, with each color representing a territory of transport. Red taxis transport within Hong Kong Island, green taxis transport within New Territories, and blue taxis transport within Lantau.


Hong Kong also has an extensive bus system. There are five franchised bus companies with a combination of 559 bus routes. The fees range from $1.80 to $48, depending on the distance you are traveling.
There are also minibuses that seat only 16 people. These are color-coded like the taxis. Red minibuses do not have routes while green minibuses follow pre-set routes.
There are 4,350 minibuses with 1,262 being red and 3,087 green. Red minibuses carry approximately 353,000 passengers per day while green minibuses carry approximately 1,526,000 passengers per day.
Resources: Hong Kong Transport Department
Please share!