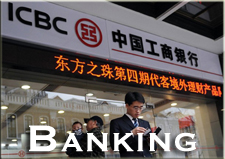 Hong Kong maintains a three-tier system of deposit-taking institutions, namely, licensed banks, restricted license banks, deposit-taking companies. They are collectively known as authorized institutions (HKMA Source).
Hong Kong's banking authority is separate from China's banking industry. They have banknotes that range from $10HKD to $1000HKD.
The exchange rate is generally around 7.75 HKD to 1 USD.
Banking in Hong Kong is extremely simple, given  that Hong Kong is a major financial hub of the world.
Please share!