Interview With Tiffany Molyneux: Teaching with EPIK in South Korea

Meet our next Reach To Teach teacher who is kind enough to share her teaching and travel experiences. We interviewed Tiffany who flew to South Korea all the way from Florida, USA to start teaching with EPIK in South Korea. Formerly a kindergarten teacher in the states we hear how she feels about teaching in South Korea, and what experiences and advice she took from it.
My name is Tiffany Molyneux and I am from the United States, specifically Florida. I have traveled to 6 continents and 16 different countries, but this is the first time I have lived abroad. I taught kindergarten for 6 years before I moved to teach English in South Korea. I have a wonderful family and a group of amazing friends back home that helped me through this whole process, and continue to show me love and encouragement.
How have you enjoyed teaching in South Korea to date? 
I have absolutely loved my experience teaching here in South Korea. I have been placed in a very small town, and I would not trade my small town in for any big city. I have amazing co-workers and I love my students. My small town has a lot of charm, and it is filled with wonderful and hospitable people. I have had such a great experience in fact, that I am going to renew for another year.
What advice can you give to new teachers interested in teaching with EPIK in South Korea?
I would advise anyone interested in teaching in South Korea to just go for it, get their application in, and get over here! I think that South Korea is a great place to teach English. You can experience a wonderful culture and have time for plenty of adventures!
Can you tell us about a particularly powerful moment in your classroom?
I had a wonderful moment in the classroom with a student who was really struggling to learn the alphabet. He came to my after school class and I was able to help him one on one. After a few weeks, he was able to identify all of the capital and lower case letters, and read basic words. As a teacher, this was very rewarding to see a student work so hard and then see his hard work, and mine, pay off.
What are the positive and negative aspects of living in South Korea?
The positive aspects of living in South Korea are too many to number, but I will name a few. I have met some of the most incredible people, literally from around the world, while teaching with the EPIK program. I have made new life-long friends. I have also made friends with co-teachers and other Koreans in my neighborhood. I have been to temples, palaces, museums, mountains, etc. to learn more about the amazing culture in Korea. I LOVE the food in Korea. I am making enough money to pay off debt at home, travel all around Korea, and save some for the future.
The negative aspects are being so far from my friends and family. I am very close to my family and it has been difficult not being physically with them in a year, but we keep in contact through Skype,Facebook, emails, and phone calls. Another negative aspect is that when I first got here I was not able to read the language, and I only knew how to say "hello." I have learned how to read Korean, and I am really studying hard to be able to speak it, but I wish I was more fluent so that I could easily communicate with everyone around me.
Have you had the opportunity to travel much in South Korea or in Asia?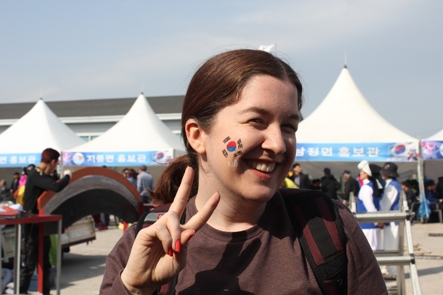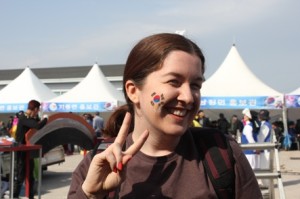 YES! I have been able to travel all around Korea. I have been to Andong, Busan, Daegu, Pohang, Seoul, Gumi, Nonsan, Gangleung, and the list goes on. If you want to learn more about my adventures, check out my blog kimchikronicles.wordpress.com. I was able to travel to Cambodia and Thailand this past winter break. I plan on going to Japan next winter break, and then doing a huge trip around Southeast Asia  next summer when my contract is up.
Is there anything else you'd like our readers to know about? 
Be flexible when you come to Korea. Don't get bogged down in your own expectations of what should happen, but be open minded and make an effort to enjoy every moment. Then you will have a blast and it will be the fastest year of your life.
Do you have any favorite blogs or websites about South Korea that you'd like to share with our readers?