Tips For Riding The KTX in Korea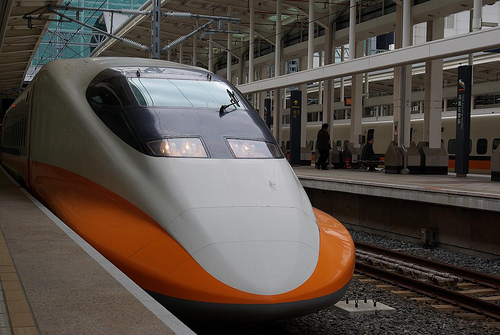 As the pitch of the wind rushing past the window rises and the scenery whips by, there is a sense of motion unparalleled by most other modes of transportation.
Indeed 300 km/h is not particularly fast for an airplane, and the flight from Seoul to Busan is much quicker, but gliding along the ground at these speeds is a new experience that amplifies the excitement of travel. For those visiting or living in Korea, a ride on the KTX is well worth the experience, especially for the price.
Opened in 2004, the KTX (Korea Train Express) brought Korea into the world of high speed train travel and connected the small country with fast and efficient routes.
The train connects the country's largest cities – Seoul and Incheon in the northwest and Busan in the southeast – and reaches all the way down to Mokpo in the southwest and Yeocheon in the south with a couple dozen stops in between.
With the capacity to carry approximately 900 passengers per train, the KTX can shuttle thousands of commuters and tourists every day.
For those of you living and working in Korea, the KTX is a very useful tool for exploring the country efficiently. The process of getting the right ticket can seem daunting, but it's actually quite simple.
Booking a ticket
The simplest and most direct method is to buy a one-way ticket (round trip is not available). Fares vary depending on your destination. A short jaunt from Seoul Station to Suwon will run about 13,000 won (~$11) and the popular ride to Busan will cost you about 56,000 won (~$51) for an economy class seat.
You can of course pay more for a first class ticket to get a little extra space and privacy. If the train is sold out, they will sell "unassigned" tickets for a few dollars cheaper than economy.
The best way to get to the booking site is simply to search for "letskorail" into Google. The first result will take you to the English language ticket booking page. You can also follow this link to get there.
The process is straightforward. Just select your desired origin and destination, the date and time, and hit find! This website allows you to find tickets for all Korail trains, not just the KTX. Select KTX from the drop down to limit the results.
The Korail Pass
Depending on your route, you can save a little money by getting a Korail Pass. You can save some additional money if you are traveling with others or if you are under 25.
If you're planning on using the KTX frequently over a short period of time, this can be a great option. (I should note that it is only available for foreigners and only gets you an economy seat, but it does allow you to take any of the trains operated by Korail, not just the KTX.)
From the Korail website, select Korail Pass, which will take you here.
Depending on how much you plan on traveling, you can select a 1-, 3-, 5, or 7- day pass. Prices vary from about 67,000 won to over 168,000 won for an adult ticket. The cost of each varies depending on the length of days you wish to purchase.
For a trip to Busan, if you are only staying for one or two days, a Korail pass is definitely worth it. It is also great if you want to keep your schedule flexible.
Getting on the train
I'll use my example to illustrate how it works. I planned a trip to Busan from Seoul from Friday afternoon through Sunday morning. I purchased a pass through the Korail website, and I did not exchange it for a ticket until I arrived at the station Friday afternoon, but I was able to get on a train within 30 minutes of picking up my pass.
When you purchase the pass online, print the confirmation at the end of the process. Just sign and bring that piece of paper and your passport to the station when you know which train you want to catch.
If you don't have access to a printer, there is a digital option you can send to your smartphone. I was unsure of the time I would be able to make it to the station, so I didn't get my ticket until right before catching the train.
The best place to depart Seoul is from Seoul Station. There are KTX trains running to Busan every 10-20 minutes from 5 a.m. to 11 p.m. When you arrive at the station, go to the main terminal and find the Korail information booth in the center of the terminal. It's next to a Korail shop full of model trains.
Simply show your signed confirmation and your passport to the attendant, and tell them which train you would like to catch. I got to the desk at about 1:40 p.m., and I was able to get a ticket for the 2 p.m. train. The attendant will give you your ticket (looks like a sales receipt) and your Korail pass.
When you want to get on your next train for a new destination or to return, simply show that pass at any KTX ticket window, and tell them which train you would like to take.
It's that simple.
Happy travels. See you on the rails.