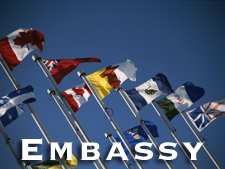 Once again with the territory of Hong Kong being an international business hub, there are more than 100 countries represented by foreign embassies in Hong Kong.
For the United States, the embassy is called United States of America Consulate located at 26 Garden Road, near Cheung Kong Park. Since 1843, the U.S. Consulate General in Hong Kong has existed, beginning with working out of his residence (Consulate General). Today, the current Consul General is Clifford A. Hart and the Deputy Consul General is Tom Cooney.
In general nationals of most countries do not require a visa to enter Hong Kong for tourism and can stay for periods varying seven to 180 days, depending on nationality.
A United States citizen can visit Hong Kong up to 90 days without a visa, but a visa is required for those to work, study, establish or join in any business or to take up residence (Hong Kong Visas).
Repeated business traveler can acquire a Hong Kong Special Administrative Region Travel pass under certain conditions. The three eligibility requirements are: genuine need to visit Hong Kong frequently, previously visited Hong Kong on three or more occasions in 12 months prior to application or the Director of Immigration must be satisfied that your visits may bring substantial benefits to Hong Kong.
Additional Resources
Please share!