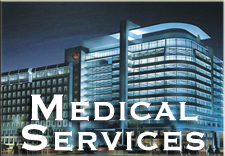 Hong Kong, along with China, is second only to the United States for having the highest medical costs in the world. Medical services in Hong Kong's healthcare system are comprised of public and private systems, which is comparable to western healthcare systems. Traditional medicine, like herbal medicine and acupuncture, is used for illnesses and chronic problems that cannot be cured by modern medicines. The public healthcare system is funded by the government and managed by Hong Kong Hospital Authority. The public healthcare system, comprised of 42 hospitals and 121 outpatient clinics, is to provide inexpensive modern western medicine and treatments to the people of the territory. Between the hospitals and clinics, they provide 27,000 beds, or about 4 beds for every 1,000 members of the population. Many people choose to use the public system for major illnesses and procedures, like childbirth or surgeries. Hong Kong Hospital Authority enforce workers to be trained in "good practice" by requiring active participation in trainings, continuing education, clinical audits, attendance at clinical management meetings, community care participation, and contribute to clinical research.
The private healthcare system is comprised of 13 hospitals registered with the government. Residents of the New Territories tend to choose private practices for common day-to-day illnesses, like a cold or ear infection. However, in order to afford the cost of a private practice, an individual is advised to have private health care insurance due to high medical costs. Additional Resources:
If you liked this article, please share!