Banking in South Korea
Banking in South Korea is a fairly straight forward process. As a foreigner, it is vital to have a bank account as your school will do a direct deposit into your account each month. Also, if you want to transfer your earnings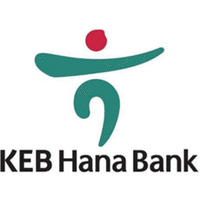 to your home bank, it is more efficient to use local banking services rather than going through 3rd party companies.
The process is very short and begins by filling out a bank application form and verifying your travel documents. Assuming there are no problems you will walk out that day with a new bank account!
Citibank Korea, KEB Hana and Woori Bank are a few of Korea's largest banks, and all have experience working with foreign clients. They will be more sensitive to your needs and may even have translators on-site or documents in languages other than Korean. However, if you do have a friend who can speak Korean it may prove helpful to have him/her accompany you, just in case.
When applying for a local bank account you will be required to present the following documents:
Passport with E-2 Visa
ARC Card
It is possible to setup an account before you receive your ARC card, but you won't have full banking services until to take in your ARC card to the bank.
Services, Fees & Interest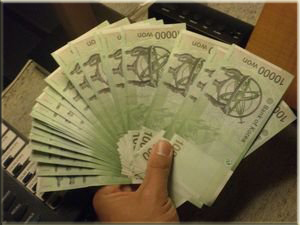 The beauty about banking in Korea is the lack of service fees that they charge. So don't get sucked into paying extra fees because it is likely that you won't have to anywhere else.
If you would like to make some interest on your account, the best route to take would be a savings account or an installment account. Interest is generally between 2% and 4% and can be paid at varying periods of time (annually, semi-annually, monthly, etc).
Depending on which bank you sign up with, you may be offered tax benefits. Rates vary between banks and types of accounts. For example, Korean Exchange Bank charges 10.5% for taxes on a Time Deposit account.
South Korean Won (KRW)
The country's official currency is the Won. Notes are in denominations of KRW 10,000, 5,000 and 1,000. KRW 1,000. Coins are in denominations of KRW 500, 100, 50 and 10.
Credit Cards
International credit cards (Visa and MasterCard) can pretty much be used in most places. However, only some ATM's will accept foreign credit/debit cards (look for machines correlated with Cirrus, Star, Interlink, Plus, etc). The bank card issued by your bank is not a credit/debit card, but an ATM card. It can only be used to withdraw cash from bank ATM machines.
Sending Money Home
Most banks offer services to transfer funds internationally for a small service fee (your home bank may also charge a fee to receive the money). This makes banking in Korea putting straight forward like most western countries.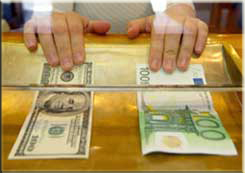 It is essential that you bring your passport with you when transferring money because it is procedure for many banks to stamp it each time. Some institutions have recently established online banking services where you can do things like transfer money from the convenience of your computer. Since you are charged by the Korean bank and your home bank each time you transfer money, it is wise to send larger amounts of money fewer times.
Since most banks in Korea offer the same services for roughly the same price, your choice should depend more on other factors. If you plan on sending most of your money home, you should find a bank that has little or no restrictions on the amount you can transfer. Location and accessibility are also key factors to choosing a bank or money transfer service provider. A transfer should take no longer than a couple days to a week to arrive to your other account.
Several banks put a limit of 60% of your total earnings that can be wired home. Others are more lenient and may allow you to transfer 80% or all of your money.