Banking in South Korea
Find out here about the different accounts suitable for expats in South Korea, available banking services and fees.
Opening a bank account in South Korea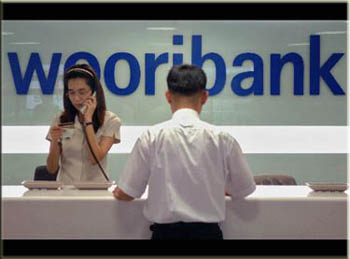 As a foreigner, it is vital to have a bank account if you plan on making money or spending a lot of it. Also, if you want to transfer your earnings to your home bank, it is more efficient to use local banking services rather than going through companies such as Western Union or MoneyGram.
Luckily, opening up a bank account in Korea is incredibly easy! The process is very short and begins by filling out a bank application form and verifying your travel documents. Assuming there are no problems you will walk out that day with a new bank account!
Citibank Korea, Korea Exchange Bank, Woori Bank and Hana Bank are Korea's largest banks and all have experience working with foreign clients. They will be more sensitive to your needs and may even have translators on-site or documents in languages other than Korean. However, if you do have a friend who can speak Korean it may prove helpful to have him/her accompany you, just in case.
When applying for a local bank account you will be required to present the following documents:
Passport
Certificate of Alien registration
Visa
Types of Bank Accounts
There are several different types of bank accounts available to citizens and foreigners alike. Most accounts do not require a minimum balance nor do they charge any fees to maintain one.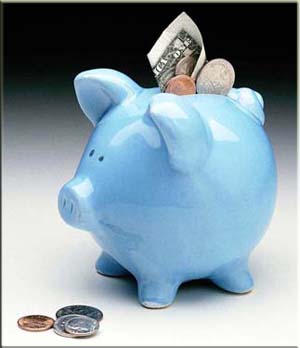 Savings
These accounts work the same in South Korea as in most other countries. The client deposits money at the rate he/she desires and the bank offers interest as an incentive to save. Generally, the longer the term of commitment the higher the interest rate will be. For shorter-term accounts, the interest rates are fairly low for savings accounts (about 2%-4%).
Time Deposit
A time deposit account works more like a checking account. Some banks do offer interest on time deposits, but they are generally lower than savings accounts.
Installment
This account requires the client to make monthly installments/payments to the bank for interest. At maturity, the client will have made a profit. This works like a Certificate of Deposit, except the money does not have to be paid up front but in monthly deposits.
Within a couple weeks of signing up for an account you will receive a bankbook to record your transactions and a bank card. The bank card is strictly an ATM card to withdraw money from any ATM machine. It cannot be used to charge purchases to your account.
Services, Fees & Interest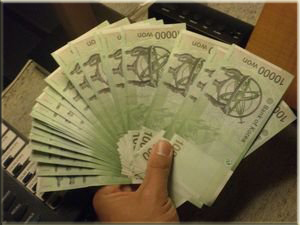 The beauty about most Korean bank accounts is the lack of service fees that they charge. So don't get sucked into paying extra fees because it is likely that you won't have to anywhere else.
If you would like to make some interest on your account, the best route to take would be a savings account or an installment account. Interest is generally between 2% and 4% and can be paid at varying periods of time (annually, semi-annually, monthly, etc).
Depending on which bank you sign up with, you may be offered tax benefits. Rates vary between banks and types of accounts. For example, Korean Exchange Bank charges 10.5% for taxes on a Time Deposit account.
South Korean Won (KRW)
The country's official currency is the Won. Notes are in denominations of KRW 10,000, 5,000 and 1,000. KRW 1,000. Coins are in denominations of KRW 500, 100, 50 and 10.
Credit Cards
International credit cards (American Express, Diners Club, MasterCard and Visa) can pretty much be used anywhere. However, only some ATM's will accept foreign credit/debit cards (look for machines correlated with Cirrus, Star, Interlink, Plus, etc). The bank card issued by your bank is not a credit/debit card, but an ATM card. It can only be used to withdraw cash from bank ATM machines. ATM machines are out of service after 11:00PM so plan accordingly when withdrawing cash.
The Korea Travel Card (KTC)
This is a multi-purpose, pre-paid travel card sold by the Korean National Tourism Office, Shinhan Card and the Shinhan Bank, only to foreign tourists or residents. This card provides discounts on currency charges, international and national calls and provides free travel insurance. The card can be bought in denominations of KRW 100,000, 200,000, 300,000, and 500,000 or in a customized amount between KRW 100.000 and 500,000.
Direct debits & bank transfers
Sending Money Home
Koreans want you to spend your money in their country and therefore may put restrictions on the amount of money you can transfer out. However, it is your money and there are plenty of resources that allow you to send it home if you wish. Your local bank and other well-known companies such as Western Union and MoneyGram are located all throughout Korea to provide the services that you need.
Most banks offer services to transfer funds internationally for a small service fee (your home bank may also charge a fee to receive the money). However, many banks put a limit on the amount of money you can transfer.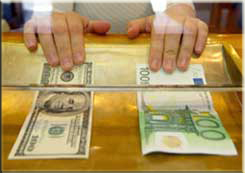 It is essential that you bring your passport with you when transferring money because it is procedure for many banks to stamp it each time. Some institutions have recently established online banking services where you can do things like transfer money from the convenience of your computer. Since you are charged by the Korean bank and your home bank each time you transfer money, it is wise to send larger amounts of money fewer times.
Choosing a bank
Since most banks in Korea offer the same services for the same price, your choice should depend more on other factors. If you plan on sending most of your money home, you should find a bank that has little or no restrictions on the amount you can transfer. Location and accessibility are also key factors to choosing a bank or money transfer service provider. A transfer should take no longer than a couple days to a week to arrive to your other account.
Several banks put a limit of 60% of your total earnings that can be wired home. Others are more lenient and may allow you to transfer 80% or all of your money.
If you liked this article, please share!