Guide to Changhua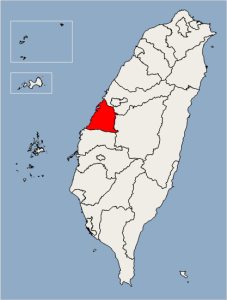 Our staff at Reach To Teach have created this handy guide to Changhua to help you familiarize yourself with this incredible city.
Changhua City (彰化市; Zhāng huà), the capital of Changhua County, was settled largely by immigrants from the Chinese provinces of Fujian and Guangdong across the Straits of Taiwan. These settlers brought their unique culture and customs, which still flavor Changhua life today. There are many unique historic sites throughout the area that pay homage to Changhua's vibrant first inhabitants, like the Baguashan Great Buddha.
Changhua is surrounded by mountains and is a welcome haven for outdoor enthusiasts. It may be considered a small town by some, but with a population of over 260,000 it still offers a lot of fun things to do.

Click on the Apply Now button to be taken to our Job Board.

History of Changhua
Changhua city was once a settlement for two of Taiwan's aboriginal tribes; the Plains Aborigines and the Babuza people. During the period of Dutch occupation, Changhua city was controlled by the Dutch East India Company. During the invasion of Taiwan from Mainland China, Changhua city was also one of the key bases for the Han invaders. To defend against the aboriginals, the Chinese Army built a fortress made of bamboo, thus eraning Changhua city the nickname, "Bamboo City". In the 17th century, Changhua city was one of the focal points of Chinese immigration, and was one of the first places the Hans settled.
From the late 17th to the end of the 19th century, despite occasional civil wars and rebellions, Changhua continued to grow into one of the major urban settlements in Central Taiwan.
The Japanese were responsible for organizing Taiwan's land, and in 1897 turned Changhua City to the official county seat of Changhua county. Since then the city has continued to prosper not only in wealth, but also culture.  The city is peppered with beautiful old temples, bike routes, and historical sites, such as the Hongmao Well.
Climate in Changhua
Located about halfway down Taiwan on the west coast, Changhua shares the semi-tropical climate of northern Taiwan.  Summers tend to be hot and humid, and the area experiences a rainy season during the spring and early summer months.   Winters are chilly, made even more so by the strong winds that blow through Changhua from the East China Sea. The nicest time of the year is during fall, from October to December, when temperatures are cool and pleasant.
Living in Changhua
The advantage to living in a medium-sized city like Changhua is that the cost of living is 10% – 25% lower than in the bigger cities, so saving money is easier. Finding a more modern, spacious apartment to share with other English teachers is also easier. If you prefer to rent your own apartment, you can still find great places for a lot cheaper than in the bigger cities.
Changhua is linked to the rest of Taiwan through the Taiwan Rail Association, as well as buses going to every part of Taiwan. You can take the train to Taichung City in 20 minutes, and a  journey to Taipei takes about 3 hours. There is also a direct U bus that makes the journey to Taipei in the same amount of time as the train but is cheaper. A local High Speed Rail station is under construction and scheduled to open in June 2015, which will shorten  the trip to Taipei to about an hour.  Transportation within Changhua is limited to walking or the occasional city bus, so most teachers buy a bicycle or a scooter to zip around town. A scooter usually costs between NT5,000 – 10,000. Scooters open up the city and surrounding countryside to give you the freedom of movement that buses can't offer. Bicycles offer the same mobility, but are cheaper and better for the environment.
Guide to Changhua – Entertainment and Night Life
There are two movie theaters in Changhua City that show movies in English, and tickets cost between NT$240 and NT$280.
One of the great pleasures of living in Taiwan are the night markets! There are two night markets in Changhua where you can find everything from food, drinks and unique snacks to clothes, books, stationary and girls' accessories. They are very lively, and open from 6pm to midnight.
Guide to Changhua – Recommended Restaurants and Bars in Changhua
Like every city in Taiwan, the usual western fast food chains are present if that's what you crave. Of course, the real treasure of Changhua is the incredible selection of independent local cuisine stalls offering a tasty adventure in every dish. There is a never-ending selection of Chinese and Taiwanese rice and noodle shops , including a very famous one called "Cat Mouse Noodle". Don't worry, the name refers to the owner's nickname, not what's in with the noodles! There are also some international restaurant options, so whether you crave American, Japanese, Italian, or something else, chances are you can find it with a little exploring.
Here are a few local favorites (and all have English menus):
The Spaghetti House has a great atmosphere and they often have live music. Additionally, they serve cocktails with dinner, which is a rare find in Changhua.
The Planet Café is a cute little place that serves great vegetarian food and delicious, specialty non-alcoholic beverages. A cute artsy-atmosphere for a relaxed afternoon.
Tea Work has a large menu that covers a variety of cuisines. There is a beautiful outdoor seating area next to a little fish pond.. A nice place to spend a long evening over dinner, or to enjoy a leisurely lunch.
Page 6 is known for its excellent pasta and great music.
Johnny's is one of the main places expats go for a drink. They serve pub food in addition to a wide variety of cocktails.
YS is another expat hangout, serving some food and drinks, but has a more relaxed and chill atmosphere.
Changhua has a wide variety of other options, including everyone's favorite pastime: eating delicious hotpot!
Guide to Changhua – Outdoor Activities
Changhua is the home of the famous Great Buddha Statue, the biggest in Taiwan. It sits on Bagua Mountain and offers stunning 360 degree views of not only the city, but the beautiful coast as well. The whole mountain has been turned into a beautiful park. There are wooden walkways, pavilions and cafés that surround the Buddha, all making for a very pleasant experience. It is especially beautiful in the spring, when the many Youtong trees are in bloom, showing off their snowy-white flowers.
Another beautiful sight is the Confucious Temple. One of the city's treasures, it dates back to 1726 and is one of the oldest Confucian temples in Taiwan. In the ancestral hall there is an inscribed plaque donated by the Qing dynasty emperor Chien Long. This historic landmark holds a special, colorful celebration on Confucious' birthday (September 28). Needless to say, the temple is a source of local pride for the city.
Something that is a unique to Changhua is the Fan-Shaped Train Garage. This rare sight houses the oldest steam engine train in Taiwan, along with 11 other vintage locomotives. What's distinctive is the rotatable track that connects each garage to the main track, and is a very interesting piece of engineering that attracts photography enthusiasts from all over the world.
The Changhua Arts Museum is an interesting place to spend a few hours perusing the gallery or watching one of the many performances that are put on here. Also, the grounds house the 300-year-old Hongmao Well, which is the last of the original wells built by the Dutch (hence the name Hongmao, which literally means "red hair").
The surrounding mountains offer a wide variety of hiking trails, cycling paths, and fun outdoor activities. The scenery is gorgeous, and the surrounding countryside is full of interesting places to explore. there are many small towns nearby, relics of Taiwan's distant past, full of aboriginal culture sites and local delights.
Of particular note is the old town of Lukang, about an hour and a half from Changhua by bus. This town has been called a "living museum", chocked full of gorgeous temples, museums, heritage buildings, and interesting old shops. Many local master craftsmen can be seen creating beautiful fans, lanterns, and other interesting things in their shops that look (and probably are) centuries old. Lukang is also known for its local delicacies, such as Dragon Whiskers, Phoenix Eye Cake, and Shrimp Monkeys, to name a few.
Stay Safe
Changhua is a small city and is very safe for foreigners.  It has a very low crime rate, and violent crimes are extremely rare. Traffic in Changhua is also much less of a problem compared to larger cities, though compared to western cities it may seem chaotic.  If you decide to get a scooter, make sure to wear a helmet, brush up on the local traffic laws, and always be aware of what the vehicles around you are doing.  Be especially careful when driving in the mountains, as locals tend to disregard the speed limits. Overall, Changhua is a very safe and enjoyable place to live.
Don't Forget To Pin It so you can refer back to our Changhua City Guide!