Island of Taiwan: Beginning

The Island of Taiwan is a thing of sheer beauty. With a plethora of gorgeous landscapes, friendly people, delectable food, convenient transportation, and hostels Taiwan may be one of the best and most convenient places to do an island roundtrip.
The Island Roundtrip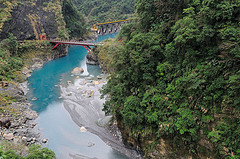 Not only is the island roundtrip suitable for Taiwan, but it's also widely regarded as a trip you must do at least once. There are even signs all along Taiwan that say 環島, or, roughly, island roundtrip.
The circular orange signs with a bicycle symbol on them can be found along highways and local rounds and are an indication that you're heading in the right direction.
As the orange sign indicates, the most well-known form of the round trip is on top of a bicycle; however, for those with tighter schedules or not-so-great cardio, there are other ways to travel around the island of Taiwan – mainly by scooter(motorcycle), trains, and busses.
Since my friend and I were on a tight schedule we took trains to each of our locations and rented a scooter when we arrived.
The best way to introduce the island round trip is to first introduce the layout of Taiwan.
Taiwan Geography
Taiwan mostly consists of mountains (about 60% of the island is made up of mountainous terrain) and the east and west coasts are where the majority of the population resides.
In the east coast of Taiwan you will find all the major cities that contain most of the island's economic sectors. From top to bottom the cities are Taipei, New Taipei, Taoyuan, Hsinchu, Taichung, Chiayi, Tainan, and Kaohsiung.
The largest of these cities are Taipei, Taichung, Tainan, and Kaohsiung. There you can find a variety of different foods, culture, and attractions within the city limits.
The west coast of Taiwan is where you can find a majority of the beautiful and amazing landscapes that makes the island so well-known. The landscapes are located not far from the cities they surround and are accessible by bus or, more easily, by scooter.
From top to bottom the cities are Keelung, Yilan, Hualien, Taitung, and Kenting. The west coast is much more rural and people live a slower lifestyle on the east coast (opposite from America).
The west coast boasts some of the most serene national parks Asia has to offer and a stunning harmonic mixture of mountain, forest, and ocean terrain.
Our Route
Deciding where and how to travel around the island became our first questions to resolve. Initially, we threw around the idea of renting a scooter in Taipei and riding a full circle around the island.
When we found out how much our butts would hurt from this venture and with a sudden time constraint we were limited to visiting a few of the best places in Taiwan.
We chose Tainan (for the delicious food and culture), Taitung (for the amazing ocean views and blooming flowers), and Hualien (for the stunning Taroko Gorge and Qingshui rock ridges).
Once we made our decision it was time to book our train tickets and hotels. Taiwan offers a huge amount of hostels and backpacker inns to accommodate the large amount of people that constantly travel around the island, so finding accommodations was simple.
Especially through the use of Airbnb's app where a majority of hotels, hostels, backpacker inns, and local people will post room openings.
Afterward, we stepped over to the closest 7-11 (about a 5 minute walk from our apartment) to buy our train tickets. We used the iBon machine which offers a huge range of things to buy: transportation tickets, concert tickets, movie tickets, paying your phone bill, charging credit to a phone card, and much more.
We looked up the most convenient train times to our destinations, found seats on the trains, and then found connecting trains from city to city. After all was said and done we were able to book tickets to each of our locations, with the cheapest price, and the most convenient times for our schedule. As with most things in Taiwan, incredible convenient.

Once we had all our tickets, hotels, and destinations squared away we got packing to get ready for our adventure.
Taiwan is an extremely easy place to navigate, how have your experiences been with travelling this island? Tune in for the second instalment of this adventure next time.