Guide to Teaching in The Republic of Georgia
About Georgia

Culture
Georgian culture will definitely quench the thirst of a cultural enthusiast with its monumental architecture, outstanding cuisine, rich musical heritage and outstanding works of art and literature.

Etiquette
As one of the oldest cultures in the world, Georgia has some standards of etiquette that are much different from the Western world.

History
The history of Georgia involves many historical records of battles for statehood and independence, interspersed with brief interludes of peace.

Language
Georgian is one of the oldest languages in the world, and also one of the toughest languages to learn.

Weather
Georgia may be a small mountainous country with unparalleled natural beauty, yet its climate is extremely diverse.
Cost of Living in Georgia
[custom_frame_right]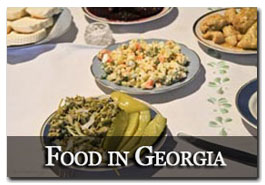 [/custom_frame_right]

Food
Georgian food includes a surprising number of unique and delicious options, and this should come as no surprise as Georgians are traditionally known for being as passionate about food as they are about guests.

Housing
Some Georgian families enjoy having teachers with them so much that they are always eager to have another teacher stay with them once the first teacher has left!

Transportation
Transportation is just one of the many topics that are covered in detail by the TLG staff when you arrive in Georgia.

Phones
Mobile phones are quite cheap in Georgia. Many teachers choose to purchase a cheap phone when they arrive in Georgia, but you can also bring one from home and purchase a SIM card when you arrive.

Internet
In Tbilisi, Internet cafes are becoming the norm. Some of the more popular Internet establishments..
Services in Georgia
[custom_frame_right]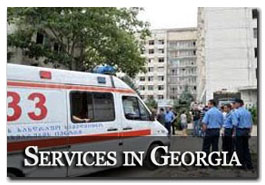 [/custom_frame_right]

Banking
The Georgian Lari is a closed currency, so be sure to change your money before you leave the country.

Medical Services
Before traveling to Georgia, please check with your health practitioner to determine which immunizations they recommend for your time in Georgia.

Foreign Embassies
Comprehensive list of foreign embassies in Georgia. Includes USA, Canada, U.K., Ireland, Australia, New Zealand, and South Africa.
Misc. Information for Georgia
[custom_frame_right]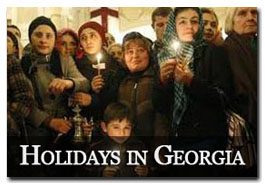 [/custom_frame_right]

Holidays
Teachers also receive 2-3 weeks of holidays depending on when you start teaching and how long your contract is.

Music and Dance
Georgian music is characterized by polyphony, and accompanying haunting non-Western harmonies, which distinguish it from its neighbors like Armenia. Georgian folk remains vibrant across the country, while modern rock and pop also exist.

Religion
The people of Georgia have a deep sense of religion engrained in them. This is apparent when you visit the country and notice that there are churches, religious paraphernalia, and spiritual references on every corner.
WHERE SHOULD I GO?
Teachers can be found all over Georgia: in the high mountain villages of the Caucasus Mountains, in the beautiful seaside town of Batumi, and the modern capital city of Tbilisi. Your time in Georgia can be tailor-made and the possibilities are endless! We have created guides on the most popular teaching destinations in the Republic of Georgia.
Finally, if you're interested in knowing how to pack for your trip to Georgia, please visit our handy packing guide for Georgia for information.