Interview With Moses Allen: An American Teacher In South Korea

Introducing Moses Allen, an extremely active individual who is currently teaching in Korea. He has kindly taken the time to share his experiences in Korea and to give you the reader some extra information about fun things to do there. Read his interview to find a wealth of fun knowledge, from running groups to ice-climbing. 
Please tell us a little about yourself 
I'm 29 years old and grew up in a small town in the Midwest, USA. I have degrees in Philosophy and Education. I taught middle school students in USA,Italy, and Austria prior to coming to work in Korea. I try to live my life to the fullest every chance I get.
How have you enjoyed teaching in South Korea to date?
Teaching in the ROK has been amazing! I've met a new family of best friends while teaching in Korea. I've had incredible experiences, several of which are worthy of lifetime bucket lists! Korean students are respectful because education is highly valued in Korean society. There is a domain of support outside of the classroom like I had never experienced. Parents consistently check what they are learning and make sure they have completed homework. Behavior problems are very rare because in Korean culture the students do not challenge authority. Coming from a background of teaching inner-city students, this was heaven! Teaching in Korea is a cake walk compared to teaching in American public schools.
What advice can you give to new teachers interested in teaching in South Korea?
I would advise new teachers to at least try Kimchi before you fly over. There is no escaping it in the land of the morning calm. Also, pack light. Really. You can find anything you'll need here. South Korea has basically the same amenities that you have in your home country. Bring some photos from home of people you'll miss. Build a photo wall in your apartment. Once you make the place feel like "your space," then you'll get over any homesickness easily. Also, make friends with other new teachers. Stay away from the burned out teachers. Unfortunately they exist and they can zap your energy. Keep positive and get out to try new things. Korea has the most amazing ex-pat community I've ever been a part of! Go to all the festivals you can!
Can you tell us about a particularly powerful moment in your classroom?
Stay positive and try to make the boring lessons fun. I had a class where I had to talk about the differences in two types of fish for a TOEFL practice question. It was terrible material to work with, but I used humor and positive energy to keep the class engaged. On top of the boring subject, it was my first day with new classes! In between making silly jokes about what kind of pants the fish would wear and who their favorite k-pop stars were, I was scanning my attendance list and making mental notes to match every face with a name. Before the end of class, I went through the rows pointing to each of the 16 students calling them by name. The students were amazed that they had so much fun AND that I already knew them all by name. They actually stood up and cheered for me! I knew right away that I would love that class!
What are the positive and negative aspects of living in South Korea?
One advantage of living in Korea is the opportunity to be exposed to such a wonderful and respectful new culture. The people of Korea amazed me with acts of generosity and consideration for foreigners in their country. They showed a reverence for the environment that I wish my own people reflected at home.
One difficulty of living in Korea is the cultural difference of not challenging the reasons behind directions. As an American, it is second nature to evaluate directions and orders from authority. That is, it is a habit to stop and think, why is this important, is there a better or more efficient way to do this? In my experience, Koreans don't do this and may take it as insubordinate behavior. So be careful of cultural differences like this.
Have you had the opportunity to travel much in South Korea or in Asia? 
I've traveled to Mexico, Armenia, England, South Africa, Zambia, Ireland, France, Italy, Austria, Greece, Egypt, Jordan, Japan, Korea, China, Thailand, Philippines, Malaysia, Cambodia, Vietnam, Macau, Hong Kong, Singapore, and Indonesia. I'm not rich. My average yearly income before I worked in Korea was around 14k. I work and volunteer whenever I can during travel. I'm an avid couch-surfer and love to meet local people in foreign countries.
How do you like your school in general?
I feel that there is a hierarchy of teaching jobs in Korea. Hagwons are at the bottom, universities are at the top, and public schools are in the middle. I'm at the bottom of the food chain. However, I feel very lucky to have been placed with one of the larger Hagwon companies. I've always been paid on time and have a great HR department that gives me any support I need at my campus. The company also gave me a top notch apartment within walking distance to my academy!
Is there anything else you'd like our readers to know about?
The best things I did in Korea was to volunteer at an orphanage every other Sunday with the International Volunteer Group on MeetUp.com, attend culture and music festivals like Korea Burn and Global Gathering, hike mountains like Seoraksan, Jirisan, and Hallasan, and take trips with groups like WinK: When in Korea. I'd advise other teachers to follow your interests even if you don't know anyone else going. You'll make amazing new friends when you arrive!
Do you have any favorite blogs or websites about South Korea that you'd like to share with our readers?
A fantastic blog to keep updated on happenings in Korea is Chincha. This is an awesome blog and they usually send out photographers to snap pics of fun events. If you are in the right place at the right time, maybe you'll end up in one of the articles! Also keep on a lookout for Seoul Shindig underground dance parties, they always have a fun theme and are a blast!
Here is some more information about fun things to do in Korea:
Hiking Groups:
Facebook has a Seoul Hiking Group where people meet regularly. Or you can try MeetUp.com which has a group for Climbing In Korea (CIK)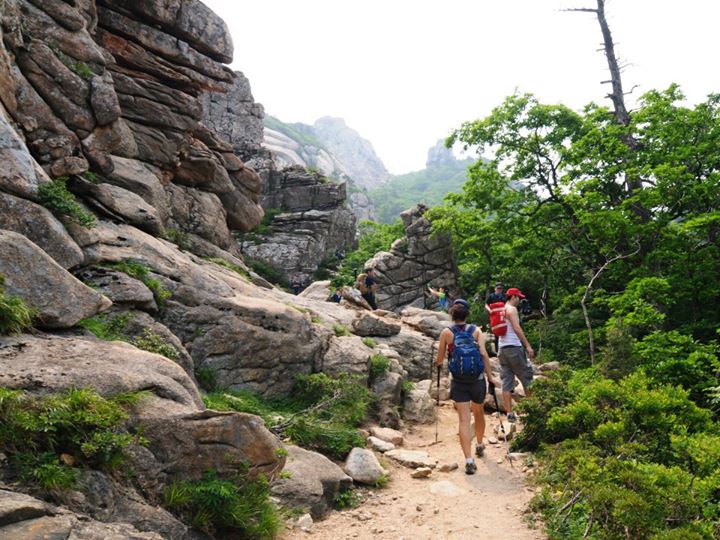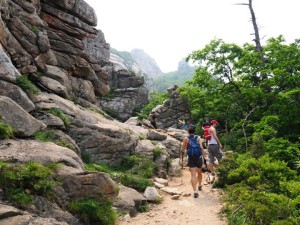 This was a hike up Dino Ridge in Seoraksan National Park. In my experience, Seoraksan mountain is the most beautiful place in the entire Korean peninsula.  I climbed it in 16 hours. It was difficult but well worth it. It has the best rock formations if you like climbing, just go off trail and enjoy yourself. As long as you respect the environment and stay sage, no one minds you leaving the trail. If you like the outdoors, I highly recommend this trek.
Rock Climbing/Ice Climbing: Sanirang is a good site, they also have a Facebook page 
Outdoors misc: Adventure Korea
Group for Party Festivals and other fun miscellaneous Trips around Korea:
In the winter, Korea gets very cold, but that doesn't have to stop you from enjoying the outdoors! Korea has wonderful ice climbing in those cold months.
Hook up with a good group like Sanirang and they will give you classes on how to climb safely. It's quite a thrill to climb up a 60 ft frozen waterfall! It could be a great outing for a group of teachers to build teamwork and rapport.
Running Groups:
(Serious runners) Seoul Flyers Running Club 
(Drunken runners) Hash House Harriers 
If you enjoy going for a run and seeing new areas of Seoul and surrounding areas on foot, you should connect with the Seoul Flyers. They go running each weekend and also travel together to run nearby 5k, 10k, 15k, half, and full marathons on a regular basis. You don't have to run all the time. Just meet up when you can. They are a fun crowd. Crazy enough to run the International Naked Marathon in January. Even the water cups from the roadside hydration stations froze on the trail!
Nearby Event Neighborhood Groups:
Suwon – http://www.facebook.com/groups/suwonhumpday/
Bundang – http://www.facebook.com/groups/bundangsocialclub/
(there is a game of Assassins being planned for March in the Bundang Social Club. Get your water-guns ready!)
Bundang Board Gamers – http://www.facebook.com/groups/408524115880866/
Cycle Group:
Volunteer Groups:
Korea International Volunteers