Teach English in China
Now Accepting Applications for Teaching Jobs in China!

Exciting ESL teaching jobs in China with Reach To Teach!
If you want to immerse yourself in Chinese culture and learn Mandarin Chinese, teaching English in China is the perfect opportunity for you. Reach To Teach currently works with many reputable schools offering ESL jobs teaching English in China. Your salary as an English teacher in China will be enough to live a comfortable lifestyle and save for trips around China and to other countries in Asia!Travel abroad is a unique and special experience. Truly living that experience is even more rare. There is no better time to teach and live in Asia. As China continues to open itself to the outside world, a case can be made the uniqueness of the experience may quickly be fading!
Diverse Teaching Opportunities in China
Visit our job board to learn more about our teaching opportunities in China.
We have only begun to discuss the many diverse and varied experiences waiting for you in the People's Republic of China. You will find both
challenges and rewards in learning to speak Chinese, developing friendships with locals and striving to understand the Chinese perspective on world issues and politics.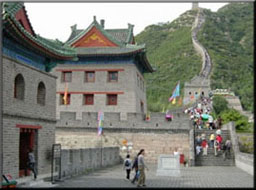 Development is occurring at a staggering rate throughout China. At the same time, evidence of the oldest and most diverse culture in the world can still be found all around you. Imagine standing in front of an
ancient temple in Beijing, just after using the modern subway to get there… or eating a delicious dumpling from an old market stand in Shanghai right next to their brand new sports stadium… or even hiking up the Great Wall with your Starbucks coffee in hand! However you decide to spend your time while teaching English in China, you are bound to have a new and exciting experience everyday!
Requirements to Teach in China
We work with a great number of reputable private schools in China, however, our teachers must meet the following requirements laid out by the Chinese government:
To teach in China you must:
Have a full university degree
Be between 24 and 55 years of age (Please note that we  ourselves have no age restriction and we promote equal opportunities. However, we are not a school or an employer – and it is the schools and the Chinese government that ultimately decide who they hire.)
Have two years of work experience post graduation
To teach in first-tier cities like Beijing and Shanghai, you should have at least one  year of formal teaching experience
A 100-hour TEFL certification - Schools give preference to teachers with 120+ hours or more.
M. Ramsey - 2014 - An American Teacher in Quanzhou, China
None of this would have been possible without the amazing support and dedication that you and Reach to Teach gave me, for that I am beyond appreciative! The reviews and reputation that Reach to Teach has absolutely were 100 percent correct, you really do care about finding the best possible position for every individual. Thank you again for all of your help! - M. Ramsey
Expand Your Horizons as you Teach in China
If you have decided to move forward in applying for an ESL job teaching English in China, congratulations! You have taken a unique step forward in making the decision to expand your horizons and challenge yourself. Your travels will soon lead you to discover many people who share your passion for exploration, travel and for broadening your horizons. While teaching English in China you will find yourself making lasting connections with locals. Chinese people often go out of their way to make teachers feel comfortable in their new surroundings (you may feel your hosts help too much at times!). You will also have fellow westerners as your co-teachers. Your best friend may be from England, Canada, US, South Africa, New Zealand or Australia. It's all part of the experience of living and teaching English abroad in China!
English Teaching Jobs at Reputable Schools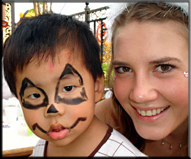 Teacher Amanda celebrating Halloween with her students. Deciding where to teach English in China can be a difficult and stressful decision. There are a myriad of ESL teaching jobs available in China and they don't always appear to be of the most reputable variety! That's where Reach To Teach comes in. We carefully screen any school we work with. We mean it when we tell you, "We will only place you at a school we ourselves would work at (and often have worked at previously)"! Reach To Teach is a program created by westerners and we care about each and every one of our teachers.
As you experience our interview and screening process, you will find we are very careful in accepting teachers to the Reach To Teach program. If you are one of the few we accept, you can be sure we apply the same strict standards to the school locations and ESL teaching jobs we discuss with you!
Typical Job Duties of an English Teacher in China
As you teach English in China, your ESL job duties will include the following:
20-25 in class teaching hours per week
10-15 office hours per week. This will primarily be spent in the preparation of lesson plans
Teacher training is also provided and your school will have materials for use during ESL lesson preparation
At first glance, teaching English in China may not seem like a particularly demanding job. However, being in front of a classroom full of children can be a real challenge. It takes careful preparation and real caring for your students. Teaching English to young students is an important responsibility. On a day-to-day basis a teacher's job includes preparing proper lesson plans. An active and interesting classroom atmosphere is always encouraged! In addition to time spent in the classroom you will administer tests, grade papers and participate in school meetings with your Chinese co-teachers.
The Benefits of Teaching English in China 
From the moment you land in China, your host school will begin helping you adjust to life in your new home. The benefits of an ESL job teaching English in China will include the following:
A monthly salary of between RMB 6,500-22,000
Airport pickup
Free housing at most schools
Work Visa (working visa to legally teach English in China)
Health insurance coverage
Many of our schools provide a housing allowance and/or flight stipend
Contract completion bonus
Get English Teaching Job Advice from the Experts!
At Reach To Teach, we support you throughout your year (or more!) teaching ESL. China is one of the most challenging, yet rewarding countries in which to teach English in Asia.
We will always do our best to assist you in any way possible during your experience teaching English abroad in China!