Volunteer to Teach English in Georgia

We are not accepting applications for Georgia at this time.

If you're looking for a unique ESL adventure abroad, becoming a volunteer English teacher in Georgia is an experience you'll never forget! A beautiful Eastern European country bordering the Black Sea, Georgia is a country of stunning scenery and windswept mountainous terrain, ancient hillside castles and churches, cobblestone streets, and friendly locals.
Teach and Learn with Georgia (TLG) is a government-sponsored program by the Ministry of Education and Science of Georgia. The project's aim – to improve the quality of education in the country – is a top priority for the Government of Georgia.
By bring fluent English speakers from around the world to the country of Georgia, TLG is working to improve English proficiency and expand Georgia's global presence.  The program also aims to create opportunities for cultural exchange, both within the classroom and within Georgian communities.
As a volunteer English teacher in Georgia, your presence – along with thousands of other teachers from all over the world – will have a profound impact on Georgian youth as well as the entire country.
WHY BECOME A VOLUNTEER ENGLISH TEACHER IN GEORGIA?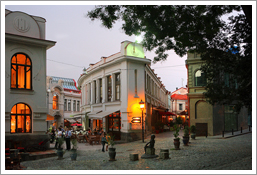 Modern city of Tbilisi
The skills you learn as a volunteer teacher in Georgia, whether you're just out of college, in the middle of your career, or retired, are skills that will help to enhance your marketability with potential employers. You'll not only gain valuable teaching experience in the classroom, but you'll also be living in a country the rest of the world knows very little about! The personal and professional rewards that you experience while teaching English in Georgia will last a lifetime!
Volunteering isn't just about giving back to a community that needs our help in improving the quality of education. The TLG program is about a cross-cultural exchange of ideas, culture, customs, beliefs and values for every side that is involved. You'll learn about traditional Georgian culture and lifestyle, and as a representative of your country, you'll also be sharing your own culture and customs with the Georgian students and families that you come in contact with.
IS GEORGIA A SAFE PLACE TO LIVE AS A VOLUNTEER ENGLISH TEACHER?
Absolutely! TLG provides volunteer teachers with the training, information, and support that they need to stay safe and healthy during their time in Georgia. Furthermore, TLG does an excellent job of screening and visiting host families to ensure teachers are being placed in a safe environment.
The crime rate in Georgia is very low. In fact, the crime rate in Georgia is lower than that of the United States, Canada, Britain, Germany and France. View this chart for details: Crime rate statistics.
WHY TEACH IN GEORGIA THROUGH REACH TO TEACH?
As one of the world's top ESL organizations, Reach To Teach is best known for the quality of care and time that we give to both our teachers and our schools. Our team of ESL experts will be guiding you through every step of your journey from start to finish. In addition to preparing you for your journey, we also offer on-going support throughout the year. Our recruitment staff has been to Georgia. We've met with the staff of TLG, we've interviewed host families and we've visited schools all over Georgia. We are 100% dedicated to making your year in Georgia one of the best years of your life!
WHAT ARE THE REQUIREMENTS FOR TEACHING ENGLISH IN GEORGIA?
Beautiful scenery in Georgia
Teach and Learn in Georgia actively recruits teachers with a variety of experiences and from countries all over the world. To qualify for the program, you must:
Speak English fluently
Possess a University Degree, College Diploma, or Associates Degree in any discipline
Nationalities: American, Australian, British, Canadian, Irish, New Zealand, and South Africa residents are preferred. TLG accepts applicants from all over the world who speak English fluently.
Complete a medical assessment form that attests to your good health
Complete a background check
A teaching certificate or ESL certification is preferred, but not required
Professionalism, enthusiasm, and a positive attitude!
Teachers will teach grades 1 through 6 for a maximum of 30 hours a week.  Volunteers co-teach lessons with up to three Georgian Teachers, and will teach lessons focused on improving students' speaking and listening ability.  Many volunteers also organize extracurricular activities based on their own hobbies and interests.
TEACH ENGLISH IN GEORGIA – TEACHING BENEFITS
Volunteer English teachers receive the following benefits:
A monthly stipend of 500 Georgian Lari (approximately $300USD)*
Free round-trip airfare to Georgia and home after your contract
Living accommodations with a Georgian family
Medical insurance
One round-trip ticket for one vacation per year
A safe living and working environment
There is no fee to participate in the TLG program
One week of language and intercultural training classes, educational skills, and cross-cultural understanding provided at the beginning of your contract by TLG.
A letter of recommendation from TLG, and a certificate of dedication signed by the Minister of Education and Science of Georgia
*Volunteers are expected to contribute 100 GEL per month to their host family, to cover the basic costs of food and utilities.
GET ADVICE FROM OUR ESL EXPERTS
The Reach To Teach staff can you tell what to expect in the classroom. As former ESL teachers, we can advise you on all things ESL-related. Furthermore, we'll be with you every step of the way, from processing your application to preparing you for your journey, getting you to Georgia, and providing ongoing support and advice throughout your year abroad.
WHERE DO VOLUNTEER TEACHERS GO?
The options for volunteer teaching in Georgia are endless. Every home stay opportunity is completely different. TLG teachers can be found all over Georgia: in the high mountain villages of the Caucasus Mountains, in the beautiful seaside town of Batumi, and the modern capital city of Tbilisi. Your time in Georgia can be tailor-made and the possibilities are endless!
WHAT IS IT LIKE TO VOLUNTEER IN GEORGIA?
Find out what your life will be like volunteering in Georgia from the people who have already lived it: our volunteer teachers. Visit our photo galleries, travel guides and volunteer blogs for more information on the Teach and Learn with Georgia program.
HOW DO I APPLY?
Fill out our application form on our web site. Once we've reviewed your application, we'll be touch with an interview offer!
Come to Georgia, where guests are honored and most welcome!